Skylight reviews praise Carey Mulligan and Bill Nighy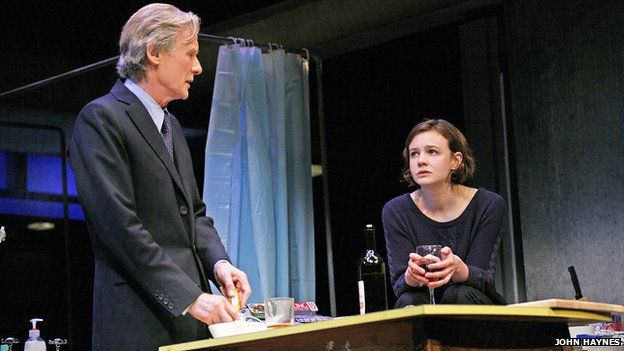 A West End revival of Skylight, starring Carey Mulligan and Bill Nighy, has gained five-star reviews.
"Some plays dissolve with time. David Hare's Skylight actually seems to have got richer since its premiere in 1995," enthused The Guardian's Michael Billington.
Mulligan makes her West End debut in the play, which is directed by Stephen Daldry.
Wednesday opening night at Wyndham's Theatre received a standing ovation.
"Hare's play hits you straight between the eyes with its mixture of private pain and public rage at our profoundly polarised society," Billington continued.
Mulligan plays schoolteacher Kyra Hollis who receives an unexpected visit from her ex-lover, the recently widowed and wealthy restaurateur Tom Sergeant (Nighy), who wants to rekindle their relationship.
During the first act, Mulligan's character cooks a spaghetti bolognese live on stage.
Also in the cast is Matthew Beard, making his stage debut, having appeared opposite Mulligan in the 2009 film An Education.
"You can't take your eyes off Nighy," he said. "He paces the grotty flat in his sharp suit and overcoat like an angry old lion in a cage, and regards the piece of sweaty cheese that Kyra plans to use in a pasta sauce as if it were marginally less enticing than dog poo."
Mulligan's diminutive Kyra, he added, was played with "both stillness and an almost feline sense of self possession".
The Mail's Quentin Letts was also full of praise for the two leads in his four-star review.
"Bill Nighy at full belt on stage is astonishing, unbalancing, unforgettable," he wrote. "Miss Mulligan, 29, may be perhaps 10 years too young to play Kyra but my goodness she holds her own.
"A moment when Kyra hurls a drawer of cutlery is as good an outbreak of anger as I have seen on stage. To not be upstaged by a rampaging Nighy is an achievement."
Also awarding four stars, The Independent's Paul Taylor described Skylight as a "splendid revival".
"The actors beautifully trace the arc from the thaw of verbal sparring as Kyra cooks spaghetti bolognese, through rekindled passion to the final bout of full-blooded ideological jousting in which one's sympathies are swung one way and another."
Libby Purves, on her Theatrecat website, noted the ideological debates between Tom and Kyra felt at times "like being beaten round the head with a copy of the Guardian".
Meanwhile, on the The Arts Desk, Matt Wolf said: "There's no doubt that the instantaneous standing ovation on press night represented a genuine response to the sort of event theatre that audiences increasingly crave."
Skylight is at the Wyndham's Theatre until 23 August. It will be broadcast live to UK cinemas on 17 July as part of National Theatre Live.
Related Internet Links
The BBC is not responsible for the content of external sites.