Martin Sheen joins Jane Fonda for Netflix comedy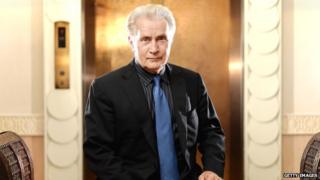 West Wing actor Martin Sheen is to join actress Jane Fonda in her forthcoming comedy series on Netflix.
The show, called Grace and Frankie, is about rival women who forge a relationship after their husbands fall in love with each other.
Sheen will play Robert, the husband of Fonda's onscreen character Grace.
Lily Tomlin will co-star as Frankie, reuniting the two actresses more than 30 years after the movie Nine To Five.
Fonda, 76, and Tomlin, 74, appeared with Dolly Parton in the 1980 comedy hit.
Sheen, 73, recently appeared in several episodes of his son Charlie Sheen's comedy series Anger Management.
But on TV, he is most notable for playing President Bartlet in White House drama series The West Wing, which ran from 1999 to 2006.
On the big screen, he is famed for standout roles in Apocalypse Now and Gettysburg.
Netflix has ordered 13 30-minute episodes of Grace and Frankie - written by Friends creator Marta Kauffman - which will be released in 2015.
With more than 44 million subscribers worldwide, Netflix continues to boost its offering of original programming in an attempt to increase its customer base.
It has already had considerable success with shows such as Emmy-winning political thriller House of Cards and prison drama Orange is the New Black, the second series of which has just been released.
Now, with commissions such as Grace and Frankie, the video-streaming service is looking to boost its original comedy catalogue.
Its rivals Amazon and YouTube have also recently forayed into original programming, with Amazon Studios commissioning a new drama from X Files creator Chris Carter and a comedy starring Gael Garcia Bernal.