Casey Kasem memorial held in Los Angeles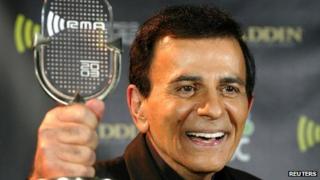 A memorial for the late DJ Casey Kasem has been held in Los Angeles.
Mourners at the small, private ceremony in Bel Air heard recordings of Kasem's old radio shows, including his famous American Top 40.
Kasem, who was also the voice of cartoon Shaggy in Scooby-Doo, died in Washington state last week, aged 82.
He had suffered from Lewy body disease, a form of dementia, and had recently been at the centre of a bitter family court battle over his care.
His death came days after a judge allowed the star's daughter Kerri to withhold food, liquid and medication from her father against the wishes of his wife of 34 years, Jean.
Between 100 and 150 mourners attended the memorial on Saturday at Bel Air Protestant Church, including Kasem's adult children, family spokesman Danny Deraney told TheWrap.
Jean, who was Kasem's second wife, and their daughter, Liberty, were not present.
"The children - Kerri, Mike, Julie and Julie's daughters - gave speeches, in addition to his close friends and brother," Deraney said.
"It was a heartwarming celebration of my dad's life," added Julie.
Many of Kasem's former radio colleagues also attended, while pop music arranger David Campbell played a violin version of Stephen Sondheim's Send in the Clowns, one of Kasem's favourite songs.
The broadcaster began his career in the 1950s and found fame with the chart programme.
He famously ended his broadcasts with his signature sign-off: "Keep your feet on the ground and keep reaching for the stars."
After spells hosting countdown shows under other titles, he returned to American Top 40 in the 1990s and retired from the airwaves in 2009.
Around the world, his radio rundown was broadcast in 50 countries and he was known for the spin-off TV show America's Top 10.
In Scooby-Doo, Kasem voiced the scruffy, food-loving but sometimes cowardly Shaggy from the first series in 1969 until 1995, and again from 2002 until 2009.