What is it like to headline Glastonbury?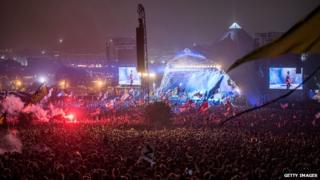 When David Bowie headlined the second Glastonbury Festival in 1971, the timing went slightly awry.
He had been due to perform on the evening of Thursday 22 June to coincide with the summer solstice. Instead, he stumbled on stage at 4:30am the following morning.
But armed with just his guitar and an uninvited Dutch fan, who apparently sang along throughout, he gave birth to a Glastonbury legend.
"The whole festival, which was much smaller then, was waking each other up saying, 'You've got to see this guy,'" recalled Julian Cope.
"There he was in a dress, long hair, and just a guitar, sun coming up... it was magical."
Since then, the festival has grown out of all recognition, but the headline slot still carries an aura of magic.
For some groups, like Pulp, it can elevate their career to the next level.
The Britpop band were booked at the last moment in 1995, after The Stone Roses' guitarist John Squire broke his arm.
"It was the first show we'd done since we had become popular," Jarvis Cocker later told Dazed and Confused magazine. "It was quite a moment because everybody sang along, and you realised that you'd crossed over into a different kind of world."
Jay-Z also walked away triumphant in 2008, despite self-appointed Glastonbury guardian Noel Gallagher declaring: "I'm not having hip-hop at Glastonbury. It's wrong."
The rapper won over the crowd with a cheeky rendition of Oasis' Wonderwall, before blowing away any lingering doubts with a punchy, raucous rendition of 99 Problems.
"It was a historic night for Glastonbury and for myself," he said afterwards.
"It's the first time a hip-hop act had headlined. It was one of those nervous moments right before I went on, and I haven't had that feeling in a long time. In front of [100,000] people, it was this great thing."
Jay-Z's victory must have been particularly galling for Gallagher, who later admitted Oasis had "never really pulled it off at Glastonbury".
"The first time we headlined, we played too many songs off Morning Glory, which hadn't been released," he said.
"Looking back... at the set list, it's colossal but nobody had heard Champagne Supernova and Don't Look Back In Anger.
"The [second] time, we had scrapped an album that was supposed to come out the week of that festival, so that was a bit of a damp squib.
"But I've always said this about Glastonbury - I think it's better to be at than to play at."
U2 may share the sentiment. They came unstuck in 2011 when, battered by torrential rain, they found themselves unable to connect with the audience.
"I walked out and it was like an ice rink", said Bono, in an uncharacteristically subdued backstage interview with the BBC. "I couldn't move. So I thought, 'just stand where you are and sing.'"
"The audience is so far away," complained drummer Larry Mullen Jr. "Sometimes when you're struggling through it, you'd just love to have them a little bit closer. There's a huge gap."
"We were definitely not slick," concluded The Edge. "We were a bit all over the shop. But in a good way."
So how will this year's headliners fare?
Metallica have already been written off in some quarters. Scottish rockers Mogwai branded them "unbelievably bad", while Jarvis Cocker worried they might be "a bit abrasive" for the delicate, mud-soaked Glastonbury audience.
It would be fair to say the band's drummer, Lars Ulrich, is not losing any sleep over the criticisms.
"When Metallica shows up to headline an institution like Glastonbury, they'll always get a reaction out of people," he told BBC 6 Music's Matt Everitt.
"I'm aware that there's a few people that sit there and go, 'What's this big, bad hard rock band doing at our festival?' But we're not competitive.
"We're not, 'Oh, we're going to come in and show them'. We're going to come in and do what we do.
"It's proven over the last couple of decades that what we do works very well in a large festival surrounding. I don't see a reason it shouldn't work at Glastonbury."
Sunday night's headliners Kasabian have also come in for a bit of a bashing - largely from critics who look down on their lairy brand of pomp-rock.
"People say it's 'lad rock,'" says guitarist Serge Pizzorno, who is looking forward to "proving people wrong".
"When they see the show, when they see what we've been doing all those years, they may reconsider their first opinion," he grins. But the band are not taking any chances - their set list was set in stone over a month ago.
"The last five songs. I mean, oh God. It's going to be… Just the last five songs," he says.
"One thing we'll promise is we'll have a great time. As a band, we'll have a blast. I just hope everyone else does."
Canada's Arcade Fire, who close the first night of the festival, are also promising a party.
Their current Reflektor tour, replete with spangly suits, glitter cannons, choreographed dancers and steel drums, has seen them attempt to bring a Haitian carnival to the anonymous enormodromes of the touring circuit.
Among the face-painted, flag-waving fans of Glastonbury, it should be a perfect fit.
"I think there's a lot of goodwill because of what it means culturally," says frontman Win Butler, who sought some professional advice before travelling to Somerset this weekend.
"Pulp are one of my favourite bands and I talked to them about their really famous show," he says.
"They thought they weren't that great - and it wasn't immediately obvious to them that it was a super-legendary show, because it was really on the edge of what they were comfortable doing.
"A lot of the time when you're doing a great show, it will seem a little rough around the edges to you. But if you can tap into this communal spirit of what's going on, it translates."
And, as Bowie found out in the middle of the night in 1971, communal spirit is an abundant commodity at Glastonbury. Even though, as he later confessed, "no-one knew any of my songs".