Glastonbury 2014: Top trending artists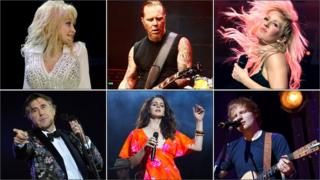 With this interactive tracker, you can follow the most talked-about artists at the 2014 Glastonbury Festival in real time.
On Twitter, the chart looks for tweets and retweets mentioning both the artist's name and Glastonbury, including the official hashtag.
For Tumblr, it keeps track of posts, reblogs and notes mentioning a show at the festival.
The percentage next to each artist represents their share of the total conversation around artists playing at Glastonbury.
For each act, you can click through to the relevant BBC music page to find videos, photos and further information.
Data for the tracker is supplied by music analytics firm Musicmetric.