Glastonbury 2014: Kaiser Chiefs kick off festival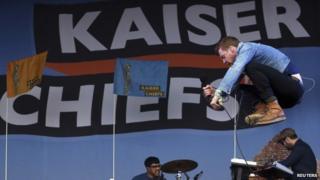 Thousands of poncho-wearing fans turned up to watch Kaiser Chiefs launch the first full day of music at Glastonbury 2014.
Pressed up against the crowd barriers from the outset, frontman Ricky Wilson led the crowd in an early-morning singalong.
Meanwhile, two people have died on the festival site since the gates opened.
A 26-year-old man died on Friday from a suspected adverse reaction to the illegal drug ketamine.
He was initially taken to hospital on Thursday, but police at the Glastonbury site confirmed he has since died and that his family have been informed.
Tragedy hit the site on Wednesday when a 67-year-old woman died in her sleep.
Police said the festival-goer died in her tent overnight, from what they believed to be natural causes.
The Kaiser Chiefs were a surprise opening act on the Other Stage, having already been booked to headline the John Peel Stage on Friday night.
"Glastonbury sing along if you know the words," said the frontman, as he launched into Every Day I Love You Less and Less. "If you don't, sing along anyway."
The rain, persistent all morning, abated as they took to the stage.
"Look at what the weather's doing," said Wilson. "Are we going to stick two fingers up to the sky?"
"It's the first time I've ever played at Glastonbury," said the band's new drummer Vijay Mistry after they came off stage. "It was unbelievably nuts.
"It's cool to know you've kicked things off. It's cool to get people buzzing for the rest of the day."
Other acts on Friday's line-up include Lily Allen and Paolo Nutini - but slow-moving, thundery showers are expected to blight the 900-acre site this evening.
Blondie, playing just after midday brought the walkways around The Other Stage to a standstill, as tens of thousands turned up to hear classics like Hanging On The Telephone and One Way Or Another.
De La Soul made the most of the mid-afternoon sun, ramping up energy levels on the Pyramid Stage with their daisy-age hip-hop.
Rudimental kept the party atmosphere alive, with pumping bass party anthems and an Ed Sheeran guest spot.
"There's something special about this place," said DJ Locksmith as the crowd danced to More Than Anything. "Make some noise!" Noise was duly made.
Sheeran, whose album is number one, was greeted by wild cheers as he joined the Hackney band. They played a new song - Bloodstream - from his number one album, X.
The band's set coincided with the day's first flashes of lightning - during the appropriately-titled Not Giving In.
Canadian band Arcade Fire top the bill later, playing on the main Pyramid Stage.
Frontman Win Butler told the BBC he was looking forward to bringing the group's calypso-inspired, electro rock album, Reflektor, to Glastonbury's 175,000-strong audience.
"The positive thing about having more people is you get this energy where people really go for it," he said.
"It's a great gig, and I think there's a lot of goodwill because of what it means culturally. For kids in high school it's like this rite of passage."
Revellers have been gathering on Somerset's Worthy Farm since Tuesday. About 85,000 had arrived by Thursday evening, with 75,000 more due by Friday night.
Torrential rain
The 900-acre site saw its first drop of rain on Thursday afternoon. By early evening, the paths and fields were muddy underfoot, but worse is to come.
The Met Office has issued a yellow weather warning for Saturday, with thunder and lightning predicted in the south-west of England.
However, festival organiser Michael Eavis was more optimistic.
"I'm not worried about the weather," he told the BBC on Thursday night.
"They say tomorrow's about 40% chance of rain, Saturday's 30% chance and Sunday is a 20% chance.
"And on Monday," he laughed, "there's no rain at all. How's that?"
The 78-year-old, who established the festival on his dairy farm in 1970, is now a celebrity in his own right - constantly asked to shake hands and pose for photographs as he inspects the site.
"Do you see that man with the beard?" one mother told her son as Eavis walked past. "He owns the whole field."
Surprise guests
Arcade Fire take to the stage at 22:00 BST, and their performance will be shown on BBC Two an hour later.
Ahead of the show, guitarist Richard Reed-Parry said the band "may have Somerset artists" on stage with them.
His comment, in the NME, left message boards and music magazines mystified.
The annals of rock history do not list Somerset as a source of tremendous inspiration - leaving Arcade Fire to choose from the likes of Kula Shaker, Reef and, perhaps most excitingly of all, The Wurzels.
---
Glastonbury 2014
---
But Glastonbury is, as ever, a hotbed of rumours. Whispers are circulating that David Bowie and Jonathan Ross, who both appear on Arcade Fire's new album, will take to the stage on Friday.
Fans are also speculating that Coldplay, The Libertines and Radiohead could make impromptu appearances.
And in the Tipi field, one reveller swore blind that Metallica's place at the top of the bill on Saturday was an impressive bluff - with funk-rock superstar Prince destined to take their place.
Back in the real world, Mumford and Sons - who closed the festival last year - have announced a special "mini-festival" in the Avalon Cafe, situated in the remote Avalon field, on Saturday.
Their Gentleman of the Road record label will host the event, with guests including BBC Sound of 2012 winner Michael Kiwanuka and folk newcomer Nick Mulvey.
The band said there would be "room for some surprises" too - but quashed the suggestion they would play a set themselves.
"Please note this is a Gentleman of the Road event only and NOT a Mumford & Sons performance," they posted on Facebook.
Other acts confirmed for the rest of the weekend include Dolly Parton, Lana Del Rey, Ed Sheeran and Ellie Goulding.