Denise Mina competes for a third Crime Novel award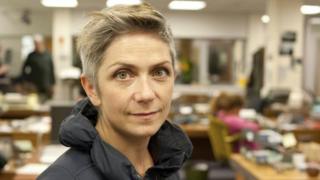 Author Denise Mina could make it a hat-trick win after being shortlisted again for the Theakstons Old Peculier Crime Novel of the Year Award.
The Scottish writer has been nominated for The Red Road, the latest in her DI Alex Morrow series.
Mina won in 2013 for Gods and Beasts and, in 2012, for End of the Wasp Season, also from the series.
Six novelists are competing for the award, now in its 10th year, including Peter May and Stav Sherez.
Sherez has been shortlisted for Eleven Days, the second in his series featuring DI Jack Carrigan and DS Geneva Miller.
---
THEAKSTONS CRIME NOVEL AWARD SHORTLIST
•The Red Road - Denise Mina
•The Necessary Death of Lewis Winter - Malcolm Mackay
•The Chessmen - Peter May
•Rubbernecker - Belinda Bauer
•Dying Fall - Elly Griffiths
•Eleven Days - Stav Sherez
---
He was nominated last year for the series debut A Dark Redemption.
May is on the shortlist for The Chessmen, the concluding novel in his series featuring ex-detective inspector Fin Macleod.
Also in the running for this year's prize is 2010 CWA Gold Dagger Award winner Belinda Bauer for Rubbernecker, which features Patrick Fort, a medical student with Asperger's syndrome.
Elly Griffiths' fifth novel in her series about forensic archaeologist Ruth Galloway, Dying Fall, sees her nominated.
And debut novelist Malcolm Mackay is in the running for The Necessary Death of Lewis Winter, the first of a trilogy.
The award is open to British and Irish authors whose novels were published in paperback in the last year.
The winner will be decided by a panel, chaired by writer Steve Mosby, which includes Simon Theakston, the executive director of Theakston; Radio Times' Alison Graham and Dave Swillman, head of fiction at WH Smith.
A public vote will also be included in the final decision.
Broadcaster Mark Lawson will host the awards on the opening night of the 12th annual Theakstons Old Peculier Crime Writing Festival in Harrogate on 17 July.
The winner will receive a £3,000 cash prize - as well as a handmade, engraved beer barrel.
Also on the night, Lynda La Plante will receive the Outstanding Contribution to Crime Fiction Award, joining past winners Ruth Rendell, PD James, Colin Dexter and Reginald Hill.