Beyonce tops Forbes celebrity power list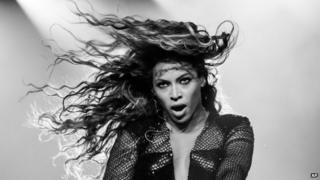 Beyonce has topped the Forbes celebrity power list for the first time since her debut on the list in 2004.
The singer, who has earned an estimated $115m (£67.4m) in the last year, was joined by her husband Jay-Z at number 6, who made $60m (£35.1m).
The pair are currently on a joint tour of the US.
Last year, they were named the highest-earning celebrity couple by Forbes. In 2013, they jointly earned an estimated $95m (£59m).
Forbes' Celebrity 100 also takes into account fame, which the magazine measures by counting the number of mentions in print, TV and radio.
It also uses a score system that measures social media power across 12 platforms, including Twitter, Facebook and YouTube.
Basketball player LeBron James is ranked second place on this year's list, while hip hop star Dr Dre occupies third spot with the highest takings in this year's Top 10 - $620m (£363m).
Dr Dre and music producer Jimmy Iovine founded Beats Electronics, the headphone maker and music-streaming service provider, in 2008.
In April, Apple confirmed it would buy the company in a deal worth a total of $3 billion (£1.8bn). It is thought to be Apple's largest acquisition to date.
Oprah Winfrey, who topped the list last year, is in fourth place, while comedienne and talk show host Ellen DeGeneres rounds out the top five.
Forbes magazine has been issuing its celebrity top 100 list annually for the last 15 years.
This year, 13 of the Top 25 are musicians, among them Rihanna at eight, Katy Perry at nine and Miley Cyrus at 17.
Newcomers on the list include singer Bruno Mars at 13, Bradley Cooper at 48, Matthew McConaughey at 52 and Bryan Cranston at 88.
Madonna, David Beckham, Tom Cruise and Adam Sandler are among the stars who have dropped off this year's countdown.
Top 10 on Forbes' Celebrity Power List 2014
1. Beyonce Knowles - $115m
2. LeBron James - $72m
3. Dr Dre - $620m
4. Oprah Winfrey - $82m
5. Ellen DeGeneres - $70m
6. Jay-Z - $60m
7. Floyd Mayweather - $105m
8. Rihanna - $48m
9. Katy Perry - $40m
10. Robert Downey Jr - $75m