Mike Myers: From Austin Powers to documentary maker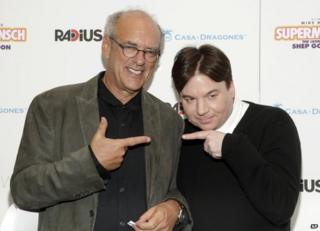 He is the man who created the superspy Austin Powers, as well as writing and starring in Wayne's World and providing the voice for the animated ogre Shrek.
But Mike Myers has not had a leading role for six years.
His career has been characterised by lengthy breaks between films. He says it is because he plans his projects meticulously.
"I write most of what I do and it takes a long time. I write every day, it's like going into an office, from nine to five, Monday through Friday," he says.
He also refuses to be defined by his career.
"My dad had a great expression: I am not my job. One of the things about North America that I don't like, although I do love Canada and the United States, is being very identified by your job. I never understood that at all."
"I go and I live life," he adds. "I have lots of hobbies. I like my friends."
Myers is back now though with a new film, but it is not a comedy. It is a documentary, Supermensch: The Legend of Shep Gordon.
Price of fame
It is a portrait of a Hollywood insider: a talent manager whose clients have included Groucho Marx, Raquel Welch and Alice Cooper.
"This is a man who knows everybody in showbusiness," Myers says. "The first time I went to his house it was like being at Madame Tussauds."
Sylvester Stallone, Whoopi Goldberg and Arnold Schwarzenegger were among the guests.
The film marks Myers' directorial debut, but he insists it was not a radical change of direction: "I've never really made a career plan."
He says he has been trying to make the film for years, but Gordon had resisted. When he finally agreed, the Shrek star says he "jumped on it like a grenade and dumped everything".
Myers says it was a film he needed to make.
"We live in a very weird time right now where fame is an end in itself. Fame is really the industrial disease of creativity, it is not a destination - it is certainly not a destination that nourishes.
"And this is the message that the man who created so many famous careers, that is the conclusion that he has come to. That is what this whole movie is about."
Myers says he had not paid the price of fame - and he has his family to thank for that.
"It's hard with my family to let any of this go to my head because they're bred to bring me down to earth.
"My parents are from Liverpool. I grew up in a very, very normal house and I always think if Liverpool had an unofficial motto it would be 'who do you think you are?'"
Despite his foray into directing, Myers says his passion remains writing and performing. He is currently working on at least three different projects, but is tight-lipped about revealing the details.
However he did say he was unlikely to be seen on screen again within the next a year following the birth of his second child, Sunday Molly Myers, in April. "I'm in kid mode", he says,
Austin returns
Myers adds getting the go-ahead for projects in Hollywood is also becoming increasingly difficult.
"Movie contracts in general have turned into trade agreements between two small countries, because there are so many different revenue streams."
But he has hinted a fourth Austin Powers film could be in the pipeline. "It could happen," he smiles.
And he hopes people would be laughing at the flamboyantly-dressed, dentally-challenged secret agent for many years to come.
"I take my silly very seriously. I'm such a student and such a fan of come," he says, citing Monty Python and Peter Sellers as the "periodic table elements of comedy".
"If I could just leave my little signature on it that would be fantastic."
As an actor who has played several Scottish characters, including Shrek, the question of who he would vote for in the Scottish Independence Referendum, prompts a loud laugh.
"Listen, I love Scotland - I hope they remain part of Britain and if they don't, I still love them."
And speaking on behalf of the misunderstood green giant, he says: "Shrek wants what the will of the Scottish people want".
Supermensch: The Legend of Shep Gordon is released on 18 July.