Oklahoma! musical memories 70 years on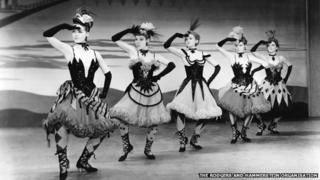 Seventy years ago Gemze de Lappe danced for theatre audiences across America in a brand new musical called Oklahoma! At 92 she remembers the thrill of appearing in a ground-breaking new show - and later bringing it to a post-War London hungry for theatrical sunshine.
"I was just 21 in 1943, and I didn't think of myself as a Broadway person," recalls Gemze de Lappe. "I thought of myself as a ballet company person. I never even went to auditions for this new show people were talking about."
Yet when Oklahoma! opened in March 1943, she says, everyone in New York theatre knew something special had arrived.
"I got lucky because the producers, the Theatre Guild, saw at once they had a hit and within weeks they contracted a second cast to tour America. So that was a chunk of my life decided for me."
Oklahoma! is set in rural America in 1906. It was the first piece composed by Richard Rodgers after he split from long-term writing partner Lorenz Hart.
The lyrics and script were by Oscar Hammerstein, whose career had been in something of a slump.
Together they created songs familiar even to those who've never seen the musical - Oh, What a Beautiful Mornin', The Surrey with the Fringe on Top and the rousing title number.
But as a young dancer Gemze de Lappe was interested more in the work of choreographer Agnes de Mille. Today she's one of the last people alive to remember how fresh De Mille's work seemed and to have worked with her in her prime.
The new cast learnt the show by sitting in the audience every night for two weeks at the St James Theatre on 44th Street.
"Agnes had integrated the dancing like no-one ever did before. It wasn't like you had a comedy spot and then a big chorus number - it was seamless.
"At one level the story of how Laurey Williams and the cowboy Curly get together is a little corny. But every night I felt the audience around me caught up in how the story was told, with the gorgeous dancing and all the music.
"It was very American - which 18 months after [the Japanese military strike on the US naval base at] Pearl Harbor was exactly what New York wanted. Maybe it was our reassurance that our nation was strong and would survive.
"Almost from day one we had so many servicemen in the theatre in uniform. A lot of them came from rural areas and were passing through New York. The show spoke to them."
Prof Tim Carter has written about the show's early days.
"Rodgers and Hammerstein had admired what Agnes de Mille did the previous year with the ballet Rodeo [music by Aaron Copland]. They let her take quite a radical view of what the dancing should be," he says.
"For Oscar Hammerstein I think two things combined in 1943. The story is about Oklahoma becoming the 46th state of the Union so inevitably there's a patriotic feel.
"But he'd been searching for a truly American opera, which is what the best musicals are. He'd got some way in 1927 with Show Boat, but parts of that were still old-style operetta.
"In 1943 he went further because the pressure for America of being at war meant people were hungry for an American story told in an American way. They weren't looking up to European examples.
"Hammerstein was heading for 50, and smart people said he was more or less finished. But he and Rodgers gave America what it wanted - and they dominated Broadway for two decades after that."
Bruce Pomahac is head of music at the Rodgers and Hammerstein organisation in New York. He says productions of Oklahoma! work best when directors accept the show has a dark side.
"People know the romantic songs and the upbeat songs. But look at the character Jud Fry - a violent outsider who winds up dead. Really he's the prototype for Billy Bigelow in their next show, Carousel, where things got even darker.
"Their best shows aren't just about the goodness of America but about what was complicated in America. It's no coincidence they started writing together in the Second World War or that what came next was the Cold War.
"Oscar Hammerstein had one topic he'd return to time and time again - that we have to find a way to love each other or we'll destroy each other."
Gemze de Lappe experienced the power of Oklahoma! again when she danced in the show at Drury Lane in London in 1947. It was the first time a big Broadway musical had brought its entire cast to Britain, and it proved a sensation.
"The Theatre Guild wanted to make it at least as good as in New York. The British audience was just coming out of the War, and they were feeling drab," she says.
"I remember it was cold and foggy - we had to have a guide to get us to the theatre and back because we didn't know the city and got lost.
"And you know the set for Oklahoma! is filled with the Sun of the Great Plains and the wheat. Look at any billing for the show and the dominant colours will usually be orange and yellow. So the curtain went up and suddenly there was sunlight and energy.
"Howard Keel was playing Curly and when he sang Oh What a Beautiful Mornin' he always ended with a huge smile. The British audience just melted.
"Once I was sitting in the audience checking on the end of the show when a couple behind me said, 'Oh don't these Americans have fantastically white teeth! '
"People have forgotten how grey London was after the war so the show was beyond a hit - it was sold out for months in advance. Rodgers and Hammerstein became as big as in New York.
"The Oliviers came [Laurence Olivier and his second wife, Vivien Leigh] and Noel Coward - anyone who was anyone wanted tickets. On opening night at the end the conductor had to let the cast stand out front and sing the big numbers all over again. The audience wouldn't let us go!"
Oklahoma! ran in London until 1950, being succeeded at Drury Lane by three further Rodgers and Hammerstein shows. On Broadway it ran for 2,212 performances, at the time a record (though since far exceeded by musicals such as Phantom of the Opera).
Into her 90s Gemze de Lappe has worked as a "reconstructionist", helping new productions of the show get close to the original choreography.
"I'm not trying to get them to produce a carbon copy of what was on stage in 1943. That would be impossible.
"But I try to get directors and performers to understand the truth and beauty in what Rodgers and Hammerstein did and what Agnes de Mille did.
"And I always point out they did it in the middle of a war. That still amazes me."
The Witness programme on Oklahoma! is broadcast on the BBC World Service.