Phone hacking play Great Britain gets West End transfer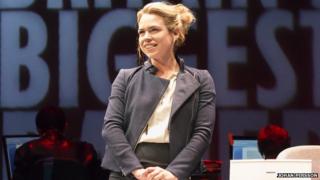 A new play satirising the phone hacking scandal and other dubious practices within the press, police and politics is to transfer to London's West End.
The news of Great Britain's transfer comes less than two days after it opened at the National Theatre.
The play, which stars Billie Piper as an ambitious tabloid news editor, was prepared in secret while the phone hacking trial was taking place.
It will move to the Theatre Royal Haymarket from 10 September.
In a four-star review, The Guardian's Michael Billington said it was "written with real verve" by playwright Richard Bean and was "blessedly funny", while The Daily Telegraph's Dominic Cavendish praised it as a "bold, topical" work.
The Daily Mail's Quentin Letts said it "catches a sense of careering chaos, of compromised politicians and a political/media/celebrity/legal elite who bribe and blunder and chisel and cheat".
The result, wrote Paul Taylor in The Independent, was "a farce with fangs [that] puts the whole incestuous culture in the dock and subjects it to merciless ridicule".
Tickets for the West End transfer go on sale on Friday and bookings will be taken for performances up to 10 January 2015.
Meanwhile, there will also be a West End transfer for Urinetown, a musical satire set in the future where a water shortage has led to a ban on all private toilets.
The show, which began in the US in 2001, was at the St James Theatre earlier this year and will move to the refurbished Apollo theatre from 29 September.