TV sex and violence 'more accepted', Ofcom says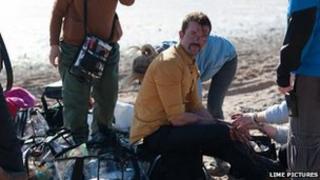 The number of viewers who believe there is too much sex, violence and swearing on British TV has fallen sharply.
Broadcasting watchdog Ofcom has published annual research into audience attitudes to television and radio.
It found that the number of viewers who said there was excessive violence on TV fell from 55% in 2008 to 35% in 2013.
Objections to swearing fell by a third over five years, while those who found there was too much sex on TV fell from 35% to 26%.
The figures were largely driven by a change of attitudes among older audiences, the research suggests.
In 2013, 39% of over 65s said there was "about the right amount of swearing" on TV, compared with 18% in 2008, while the number of older viewers who found there was "too much" violence also fell.
However, those in the older age group were also less likely to be satisfied by the quality of programming.
Some 47% of over 65s said TV programmes had got worse, compared with 20% among 16-34-year olds. Key reasons cited were too many repeats and a lack of variety.
Watershed 'challenge'
Across all age groups, just over one in 10 (13%) believed television had improved.
The Ofcom study also looked at awareness of the 9pm watershed, which was introduced 50 years ago this month.
The study found that 94% of adults who watched TV were aware of the watershed, with 78% agreeing that it was at the right time - a small increase in awareness on figures collected in 2008.
However, the regulator acknowledged that on-demand and catch-up viewing would change the landscape in terms of protecting children.
"Ofcom recognises that the growth of on-demand TV is posing new challenges for parents and regulators," Ofcom's Claudio Pollack said.
"We're working on ways to help ensure that the protections viewers expect from the watershed apply beyond broadcast TV."