Eimear McBride wins Desmond Elliott debut novel prize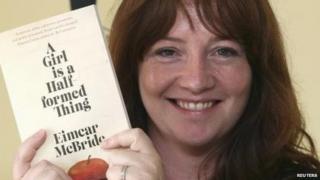 Eimear McBride has won the Desmond Elliott Prize for debut novelists for her book A Girl is a Half-Formed Thing.
The announcement comes a month after McBride scooped the Bailey's Women's Prize for Fiction.
The novel tells of a young woman's relationship with a brother who is afflicted by a childhood brain tumour.
Judge Chris Cleave called it "the kind of novel that is written once in a generation and takes the art to an entirely new place".
McBride's novel - which she wrote 10 years ago, at the age of 27 - beat Robert Allison's The Letter Bearer and DW Wilson's Ballistics to claim the £10,000 prize.
Cleave, who chaired the judging panel, likened McBride's work to The Catcher in the Rye and Lolita, hailing it as "a masterpiece that some love and some loathe, but which has a greatness that few will deny".
The book has risen to such acclaim after being initially rejected by countless publishers for its experimental style.
It eventually came to the attention of Norwich-based independent publisher Galley Beggar Press.
Literary 'parasites'
Chris Cleave, an author and journalist, called on fellow writers to "raise up the next generation of novelists".
"When it comes to serious literature, the various parasites are now killing the host organism," he said.
"From now on, I want to see every established writer, whenever they win a prize, or give an interview, or make a statement on Twitter, insist on mentioning an upcoming novelist whose work needs more recognition.
"Let this generation of writers give life to the next, or may we be damned as the ones who let literature be murdered on our watch."
Published a year ago, A Girl is a Half-Formed Thing has won a string of awards including the £10,000 Goldsmith's Prize for original fiction, the Kerry Group Irish Novel of the Year and the Bailey's Prize, beating Donna Tartt's hotly-tipped The Goldfinch.
The Desmond Elliott Prize - named after the late publisher and literary agent - is now in its seventh year. Previous winners include Anjali Joseph's Saraswati Park and Ros Barber's The Marlowe Papers, which was written entirely in verse.