Scarlett Johansson wins payout from author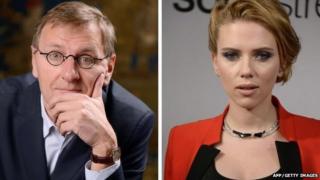 Scarlett Johansson has won a 2,500 euros (£1981) payout over a promiscuous character in a book described by the author as her "doppelganger".
A Paris court ordered novelist Gregoire Delacourt to pay damages for the "hurtful and demeaning" depiction.
Mr Delacourt argued the Johansson character in his book, The First Thing We Look At, was meant as a "tribute".
But Ms Johansson's lawyer, Vincent Toledano, told the court the book presented her as a "sex object".
Mr Delacourt described his work as a satire on celebrity culture.
The First Thing We Look At (La premiere chose qu'on regarde), which was published in March 2013 and has sold 100,000 copies, is centred on model Jeanine Foucamprez who bears a striking resemblance to Ms Johansson.
The first part of the novel is told through the eyes of a garage mechanic convinced the famous film star has turned up on his doorstep.
"It was meant as the highest praise," the author, one of France's most successful modern writers said. "She is an archetypal beauty of our times, very human with a touching fragility."
'Demeaning'
But, in court, lawyers argued it made "defamatory claims" about Ms Johansson's private life.
"For Scarlett Johansson, the fact that she is attributed to relationships that she never mentioned herself is hurtful and demeaning," the court said.
Ms Johansson had sought 50,000 euros (£39,600) in damages for the "fraudulent use of her personal rights" but the eventual figure was substantially lower.
The actress had also sought an injunction to stop the novel being translated or adapted for cinema, which was thrown out by the court.
Ms Johansson's lawyer said he was "extremely pleased" with the verdict, but Mr Delacourt's legal team declared the compensation "derisory".