Geldof "overwhelmed" by public support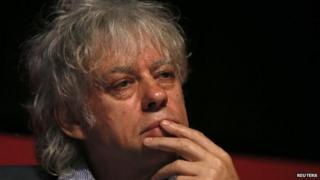 Bob Geldof says he was "overwhelmed" by letters of support from the public following the death of his daughter Peaches in April.
The TV presenter and model died suddenly, aged 25, after using heroin.
"It really helps... not just the number of letters, but the sentiment - just one line, you know," the musician told Chris Evans on his BBC Radio 2 show.
He added he was "proud" of the impact Peaches had on her generation.
"I was amazed by the impact of her - so young - on her generation," he said, adding people in their 20s were particularly shocked by her death.
"There you are, life's ahead of you - you've got no concept of the finishing line approaching.
"You're 21 and you're full of fear about what you are going to contribute to the world, what the world expects of you, or if you are going to do anything.
"This kid of mine, for some reason she seemed to sum up... some sort of attitude. I'm proud of that."
Sir Michael Parkinson, who was also appearing on the Chris Evans Breakfast show, praised Geldof's "articulate" response.
"I just think it's unimaginable to any parent what you have gone through," he told Geldof. "It's extraordinary to hear how you deal with it."
"It's the greatest fear that any parent has, and to hear you articulate that, and the way that you've dealt with it has been inspiring," he added.
Peaches Geldof died at her home in Kent on 7 April, leaving her husband - musician Tom Cohen - and two young sons.
In May, an inquest concluded "recent use of heroin and the levels identified were likely to have played a role in her death".
A full inquest will take place on 23 July.