Michael Nyman on his Hillsborough Symphony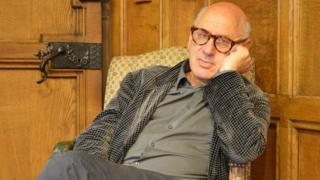 Composer Michael Nyman has written a symphony paying tribute to the victims of the Hillsborough disaster. The work will be performed for the first time for families in Liverpool on Saturday.
Michael Nyman is an avid football fan.
During a break from rehearsing his Hillsborough symphony at Liverpool's Anglican Cathedral, he discusses his composition while watching Germany play France in the World Cup on his laptop out of the corner of his eye.
With the commentary turned down and an occasional glance at the screen, he recalls the symphony's origin.
It was May 1985 and Nyman was settling down to watch the European Cup Final between Liverpool and Juventus in Brussels.
He had been commissioned to write a piece of music for a festival in France, to be performed in a decommissioned electricity generating station. Because of the acoustics and reverberation of the venue, it needed to be a slow piece.
Heysel memorial
"During the course of writing the piece, I sat down and started watching what I thought was going to be a Liverpool versus Juventus match at Heysel stadium. And I saw what I saw, which was mayhem and death."
Thirty-nine Italian and Belgian fans died after Liverpool fans rushed towards rival supporters, causing a stampede and a crush when a wall collapsed.
"The piece very quickly became a funeral piece, basically, for the Juventus fans who were killed," Nyman says.
"The piece of music acquired a subject matter and an identity without any intention on my part. The composition slid into being a memorial piece."
The composer and musician tried to have the work, titled Memorial, performed in Liverpool in the ensuing years, he says, but met resistance in the city.
Then one Saturday afternoon in April 1989, Nyman went into a recording studio to record Memorial for the first time.
"Whenever I record on a Saturday afternoon in a studio, I'm constantly listening to the radio to football reports and football results," he says.
"So every time I had a break in the recording studio, I was trying to see what the scores of the two FA Cup semi-finals were.
"One match, the scores were very easy to find, But the other, because I thought I was listening at the wrong time, the Liverpool [versus] Nottingham Forest match, the report didn't come up.
"I finished the recording session and went to Liverpool Street station to get on a train and I had my transistor with me and I listened to the whole report of the Hillsborough disaster.
"The mysterious and rather spooky aspect of it was that this was the very, very first time that I'd taken that [Memorial] music out of the box since that one performance in the electricity generating station in '85.
"So I thought this musical material was totally spooked. It was rather unnerving."
Seven years later, Nyman adapted the piece to incorporate soprano Sarah Leonard singing the names of the 96 victims and it became Hillsborough Memorial.
'Surviving corruption'
So when he was commissioned to write something for this year's Liverpool Biennial, the city's major arts festival, he decided it was "obvious" that he should expand that Hillsborough Memorial. It is now Symphony No 11: Hillsborough Memorial.
The Royal Liverpool Philharmonic Orchestra will perform the piece twice on Saturday - a public premiere and one concert for about 200 family members of Hillsborough victims.
He sounded out representatives from the family groups before taking on the commission, he says.
"They've not only obviously survived the deaths of their loved ones but also survived and still survive corruption," he says, referring to revelations that more could have been done to help some victims and that police changed evidence to avoid blame after the event.
"And also the fact that they've been, for a lot of cultural reasons, treated like scum and not given their voice," Nyman adds. "You might say they're getting their voices back now. But it's 25 years too late."
He adds: "That's just [coming] from me as an outside observer who's got no great affection for Liverpool Football Club. I'm a QPR fan, and in 1976 QPR would have won the old First Division if Liverpool hadn't drawn their last match."
Nyman is arguably best known for composing soundtracks to films including The Piano, Gattaca and The End Of The Affair.
But the Hillsborough Symphony is also a way of reclaiming Memorial, with its solemn strings and funereal brass, for its original purpose after it was used in Peter Greenaway's 1989 film The Cook, The Thief, His Wife and Her Lover.
'Loathsome' scene
"Even though I'm grateful for this piece becoming well known through the film, I'm more than slightly embarrassed," Nyman says.
"When I saw the film and saw that he had used that recording to accompany a scene where a dead body is being cooked and the main character is forced to eat the dead body, I still find that scene totally loathsome.
"Since the piece was originally associated with real dead bodies, the idea of this gruesome.
"That's the thing about writing film music - whatever your intentions are, you can't control how it's used or where it's used. This was an extreme case that I still find tasteless.
"But I feel that by putting it back into this context, I've paid my dues for giving it to Greenaway and allowing him to use it for some very, very dodgy sequences."
Before going back into the hallowed and cavernous heart of the cathedral to continue rehearsals, Nyman turns back to his laptop to watch the second half of the Germany v France match.