Justin Timberlake wins Silver Clef award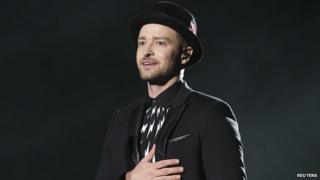 Justin Timberlake has won the coveted best live act award at the Silver Clef awards, beating artists including Arcade Fire and the Rolling Stones.
Timberlake picked up half a million votes in the only award voted for by the public.
Bono surprised Pharrell when he presented him with the international award.
"I'm super embarrassed and caught off guard because I didn't know Bono would be presenting this to me," he said.
Led Zeppelin's Jimmy Page won the 02 Silver Clef prize and told the audience: "Thank you so very much - it's been an incredible day today."
Sir Tom Jones was honoured with a lifetime achievement award.
And Laura Mvula was named best newcomer.
Friday's event, which took place at London's Hilton Hotel, raised £531,000 for Nordoff Robbins, the music therapy charity.
Paloma Faith picked up the prize for best British act, Black Sabbath landed the ambassadors of rock award, and Chas'n'Dave were honoured with the icon award, presented by Vic Reeves.
Faith gave an emotional acceptance speech: "This is my first award, it's taken me 13 years to get here, it took me seven years to get signed and they still wanted me to be 19, but I've learnt that it's all right to be a woman in your 30s.
'Trying to be Jimmy Page'
"I've always been an outsider and my mum always celebrated this for me and I want to thank her so much for that. It's amazing to be here, it's overwhelming."
Italian record producer - who worked on hits including Donna Summer's Love to Love You Baby and I Feel Love - was presented with the innovation award.
Choir master Gareth Malone was presented with the classical award by Mvula. He joked: "Music has always been there for me, I was always trying to be Jimmy Page but when that didn't happen, I tried choir mastering."
The musician has fronted popular BBC TV series including The Choir and Sing While You Work.