Emma Barnett, Telegraph's women's editor, joins 5 live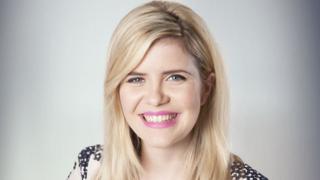 The women's editor of the Daily Telegraph, Emma Barnett, is to join BBC Radio 5 live.
Barnett, who has been a guest presenter on the station and on Radio 4, will present a new Sunday night show. She will continue in her Telegraph role.
Last week, 5 Live announced that Richard Bacon, Victoria Derbyshire and Shelagh Fogarty would be leaving.
The new schedule will see Adrian Chiles and Peter Allen host a new mid-morning programme, 5 live Daily.
The changes have led to some criticism about the lack of female representation at the station following the schedule shake-up.
Derbyshire and Fogarty presented their own shows on the station for several years. They will leave in the autumn, along with mid-afternoon presenter Bacon.
But Rachel Burden will continue on 5 Live breakfast alongside Nicky Campbell, and its Saturday morning panel show, Fighting Talk, will get its first female host, Georgie Thompson.
Eleanor Oldroyd will also host a new weekly one-hour show, The Friday Sports Panel.
Derbyshire commented on the issue of female representation in a column she wrote for the Observer after her exit was announced.
She wrote: "When two women presenters choose to leave 5 Live, should they be replaced by two other women? Does it, as some have suggested, need to be equal representation? No, but it's surely not tricky to find a similar number of talented, quality journalists of either sex."
Burden, writing on her BBC blog, wrote: "And while I'm very sorry to see Shelagh and Victoria move on to new things in their careers, I don't see it as a disaster for women at 5 live... a number of publications have stated that only one hour a week on 5 live will be presented by a woman on her own. I find this curious, given that I present the breakfast show on my own every weekday morning between 6 and 7am, and often Your Call at 9am."
And Fogarty told the Guardian: "If a year from now it's a massive turn-off, and it won't be, people can say I told you so.
"But this idea of men and women pitted against each other, it's too blunt an instrument. I'm not saying the BBC is marvellous and there's no inequality at all, but I have never experienced it. Just because a man takes over from a woman, it doesn't mean the world is out to get us."