Same sex dance ban plan sparks row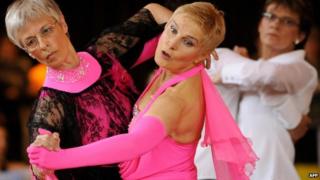 A proposal which could prevent same-sex dance partners from competing against mixed-sex couples has caused a row in the world of ballroom dancing.
The British Dance Council (BDC) is to debate a rule change which would define a partnership as being "one man and one lady... unless otherwise stated".
The BDC denied it was banning same-sex couples from competing, but said it wanted to "regulate the situation".
However one dancer accused the BDC of "condoning discriminatory behaviour".
BDC president Bryan Allen said the proposal came after complaints some mixed-sex dancers were "unfairly disadvantaged" in competitions against all-male couples who are physically stronger.
He told the BBC the rule was not intended to prevent same-sex couple from competing, but would allow organisers to host mixed-sex only competitions if they wished, in addition to the same-sex only contests currently held.
"If this was passed there'd be very few, if any, competitions just for mixed sex couples - however it would establish equality," he told BBC Radio 4's Today programme.
'No evidence'
Heather Devine, the current European same-sex senior women's champion, said a rule change "would mean same-sex couples wouldn't be allowed to compete unless a particular competition organiser says they can".
"It effectively means it's up to organisers and depends on the feeling of the other competitors, which sounds like condoning discriminatory behaviour," she said.
She also dismissed the idea all-male competitors were at an advantage in the ballroom.
"There is an exception in the law which allows discrimination in sporting situations if men, on average, are bigger and stronger and therefore at an advantage to women.
"I don't see any evidence of this in ballroom dancing - if it was the case we'd see the top competitors being big, strong couples and actually the opposite seems to be true.
She added: "I don't think we can use this exemption to say two men can be excluded from an important competition just because they are potentially bigger and stronger."
Mr Allen conceded the proposal "could have been better worded", but insisted any change would not be discriminatory.
"The BDC has a strict policy of equity - we prohibit discrimination on the grounds of gender, marital status, race, colour, disability, sexuality, religion or political opinion and remains absolutely one of our priorities," he said.
The proposal is due to be discussed by the BDC's board of directors on 21 July.
Same-sex dancing on television
Israel's Dancing with the Stars was the first version of the hit franchise to feature a same-sex dance partnership in 2010.
TV personality and sports journalist Gili Shem Tov was paired with professional dancer Dorit Milman on the show. They finished fifth out of 12 contestants.
Austria's version also featured an all-male pairing in 2011 of presenter Alfons Haider - who himself used to host the show - with professional Vadim Garbuzov. They missed out on a place in the final, finishing in fourth place.
The BBC has said it would not rule out a same-sex dance couple on Strictly Come Dancing, but "currently has no plans for it".