Utopia: Channel 4 'will not change' drama depicting MP's death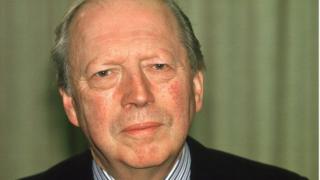 Channel 4 says it will not make alterations to its upcoming drama Utopia, despite accusations it exploits the murder of a Conservative MP.
The programme, which airs on Monday, depicts the death of Airey Neave, who was killed in a car bomb planted by the Irish National Liberation Army in 1979.
The politician's family have called it a "travesty" and a "cynical, money-making exercise".
His son William told the Mail On Sunday "we would love to stop it from airing".
The paper reported that the episode featured news footage of Mr Neave's death, and had a fictional plotline suggesting the MP was secretly killed by the government, rather than terrorists.
The family are also aggrieved that the politician, played on screen by Blackadder star Tim McInnerny, is portrayed as a heavy drinker with divided loyalties.
Former Conservative Party chairman Norman Tebbit, who was a friend and colleague of Mr Neave, called the programme "a new low point in British broadcasting".
"To attack a man like that who is dead and cannot defend himself is despicable," he told the Mail, although he admitted he had not seen the programme.
In a statement, Channel 4 defended the drama, noting that it was "entirely fictional".
"A conspiracy thriller about a fictional organization called The Network, Utopia occasionally blends real moments in history with fictional storylines, and therefore some events and characters have been adapted for dramatic licence," the broadcaster said.
"It was not our intention to cause offence and Utopia does not suggest that any other real organisation was responsible for the death of Airey Neave. That period in history has been both widely reported and dramatized over the last 35 years and is the subject of many conspiracy theories."
A spokesperson for Channel 4 told the BBC that Mr Neave's family had not contacted them directly to complain about the programme.
They added that there were no plans to edit the programme in light of the Mail on Sunday's story.
The BBC understands the sequence involving Mr Neave only lasts four minutes in the first episode, which takes place in a flashback to the 1970s.
In an interview posted on the Channel 4 website, series creator Dennis Kelly explained that he had combined several incidents from a "10-day period in 1979" as a jumping off point for the thriller, in which a shadowy organisation launches a plot to control the global population.
"There were these five or six very strange world events, including Three Mile Island, the collapse of the Labour government and the death of a couple of very prominent members of the cabinet - and I decided to weave them all into a conspiracy," he said.
In a separate interview, he said the writers had tried to be cautious when depicting real-world events within the drama.
"Everything that I used was an event with an existing conspiracy theory about them. The difference is the people who promote those theories believe they're actually true. The fiction that's applied to the same events here isn't something we claim is real, we're admitting it's all fiction.
"We were careful about it and we thought about it but these are events that happened nearly 40 years ago. "
Utopia, which first screened on Channel 4 last year, stars Nathan Stewart-Jarrett, Alexandra Roach and Stephen Rea.
It was described by TV critic Andrew Collins as "one of the best British serials I've seen... Politically terrifying, narratively sophisticated and stylistically idiosyncratic".
A US remake is currently in development, with Fight Club director David Fincher due to direct and Gone Girl author Gillian Flynn writing the script.