Doctor Who unfinished footage leaked online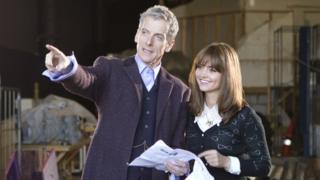 Footage from the new series of Doctor Who featuring the latest Time Lord Peter Capaldi has leaked on the internet six weeks prior to broadcast.
The incomplete material was in black and white, missing special effects and heavily watermarked.
BBC Worldwide said the breach was caused by a BBC office in the US and urged fans not to use the material.
Last week, a set of scripts for the programme marked "private and confidential" was leaked online.
BBC Worldwide, the corporation's global arm, said the latest breach was "part of an ongoing investigation into leaked unfinished Doctor Who materials".
"This content is currently being removed and originates from the same Miami server we disabled last week, it is not a new issue.
"We'd like to thank the amazing Doctor Who fans who are continuing to keep fan sites and social media spoiler-free but would remind those downloading and sharing this material that it's illegal to do so," added the statement.
The first episode of the new series is due to have its premiere at a screening in Cardiff on 7 August, after which the show's stars and executive producer Steven Moffat will take it on a world tour leading up to the first TV broadcast.
The opener will be screened on BBC One on 23 August, while a minute-long trailer for the new series was screened on the channel during the half-time break during the World Cup final on Sunday night.
BBC Worldwide made an apology for the leaked scripts last week, and made a similar plea for anyone not to use the material or spoilers associated with it.
Last year, some US fans were sent DVDs containing the series finale three weeks before it had been broadcast.
In May 2011, Moffat criticised those "who call themselves fans" who revealed crucial plot lines ahead of transmission.
"You can imagine how much I hate them," he told BBC Radio 5 live. "I wish they could go and be fans of something else."