How Goldfrapp put Greek tragedy Medea to music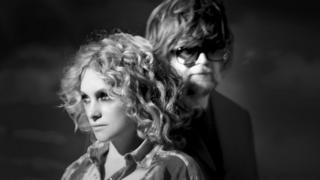 Pop duo Goldfrapp have turned their talents to writing the music for the National Theatre's new production of the Greek tragedy Medea.
Helen McCrory stars as Euripides' tragic heroine in the new version of the play written by Ben Power and directed by Carrie Cracknell.
It is the first time that Alison Goldfrapp and Will Gregory have created the music for a stage play, although Gregory has previously written an opera and scored a silent movie.
Medea, which opened on Monday night, features a live band of five musicians who play on stage as the drama unfolds.
Gregory told the BBC News website about the challenges of making the soundtrack for an Ancient Greek classic.
How different has it been writing for the theatre?
It's a malleable thing that keeps slipping out of your grasp. You're trying to write music for something that's evolving in front of you. The actors are improvising and the next day they've changed what they're doing.
Something you've done gets completely cut - that's happened a few times - or it comes back and is used in a place it wasn't designed for. I love that idea.
How did you get involved?
Carrie Cracknell asked if we'd be interested. She was very clear about what she wanted.
We had this period where we threw sound moods at each other. We pulled some things out of YouTube that we all listened to.
We were thinking about that sort of filmic genre of horror music but that has disappeared completely now. It was just something to bounce off each other.
What was the challenge of writing for a dancing chorus in a Greek tragedy?
There's text and and dancing and music and singing which all have to co-exist. It really brings to life that element of the play which can be quite static and monolithic.
The scenes between the leading characters are so wonderfully constructed - they are battles of logic and wit. You need a bit of a release from that in between these confrontations and that's what these interludes provide.
Reviews round-up: Medea
How much were you at rehearsals?
For the six weeks of rehearsals we were there for more than half the time.
While scenes were being rehearsed with actors we would be trying things out with the singers.
We really have had the time and space to be very controlled about what we want.
It's been amazing for me to sit and watch the actors - after each rehearsal there's a round table where they discuss forensically what happens in each scene.
It's like a mosaic putting all that together. Watching that from the outside has been incredible.
How did you manage that with Glastonbury and a European tour?
Alison and I have been able to split our roles and it's only been this last week that Alison's had to go off and do some gigs. This week's been more about technical things.
How have you and Alison had to change your writing style?
I would say it was business as usual. We improvised together but we had a script, so we knew where we needed things.
We've gone for simplicity. Hopefully the music will be just part of the experience - it'll wash over you.
What will Goldfrapp fans make of it?
I hope they won't be thinking about the music at all and that they will be bowled over by Carrie's production.
Helen McCrory is incredible. We've been mesmerised by her for six weeks. She's so focused. It's been an eye-opener to see how committed all of the actors are.
I'm hoping Goldfrapp fans will not remember that's what they are. They will be Medea fans.
Medea is on at the National Theatre until 4 September. A National Theatre Live broadcast to cinemas is on 4 September.