David Hockney tops list of artists for public exhibition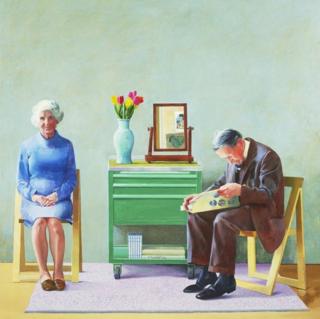 Artists Sir Antony Gormley and Grayson Perry have unveiled the art works to be exhibited across 30,000 billboards and outdoor sites across the UK.
Perry and Sir Antony revealed more than 38,000 people voted on Facebook as they made the announcement at Waterloo station in London.
The list was topped by David Hockney and Dora Carrington.
Billed as the UK's biggest art exhibition, Art Everywhere runs from 21 July to 31 August.
The shortlisted works were listed in order of popularity:
David Hockney, My Parents, 1977
Dora Carrington, Farm at Watendlath, 1921
Dame Laura Knight, Ruby Loftus screwing a Breechring, 1943
Grayson Perry, The Annunciation of the Virgin Deal, 2012
Stanhope Alexander Forbes, A Fish Sale on a Cornish Beach, 1885
Michael Andrews, Melanie and Me Swimming, 1978-9
George Frederic Watts, Ellen Terry (Choosing), 1864
Augustus Leopold Egg, The Travelling Companions, 1862
Patrick Caulfield, Pottery, 1969
John Hoyland, Memory Mirror, 1981
Rose Wylie, Early Memory Series No 2: Doodle Bug, 1998
Eileen Agar, Slow Movement, 1970
Julia Margaret Cameron, lago (Study from an Italian), 1867
Gilbert & George, Existers, 1984
John Constable, Study of Cirrus Clouds, c.1822
Edward Collier, Trompe l'oeil with Writing Materials, c.1702
Philippe Jacques de Loutherbourg, Coalbrookdale by Night, 1801
Ivon Hitchens, A River Pool, 1951
Henry Moore, King and Queen, 1952-3, cast 1957
Hans Holbein the Younger, A Lady with a Squirrel and a Starling, 1526-8
William Blake, The Circle of the Lustful, 1824-7
Gillian Wearing, Signs that say what you want them to say and not Signs that say what someone else wants you to say I'M DESPERATE, 1992-1993
Marcus Gheeraerts the Younger, Queen Elizabeth I (The Ditchley portrait), c.1592
Ben Nicholson, 1940-42 (two forms), 1940-42
Marc Quinn, Self, 2006
The art works will appear across the UK on outdoor sites including bus shelters, underground stations, roadside billboards, motorway services, national rail networks, shopping centres and airports.
They will also be shown at a national on-screen exhibition on more than 1,000 Vue cinema screens in August.
Sculptor Sir Antony also unveiled a digital artwork, Feeling Material, which the public can download for free.
It was commissioned for Art Everywhere and will be shown on digital poster sites across the UK, including Waterloo station and Coventry House in Piccadilly Circus, as well as Manchester's Trafford Centre and on motion screens in the back of over 2,000 black cabs.
Sir Antony has also donated 100 signed limited edition works which will be given to the first 100 supporters who give £950 or more to Art Everywhere.
The money is to support the costs of print and production.
Both the digital and limited edition works will be available from 16th July until 31 August.
Sir Antony said: "Works in public collections form an important part of our collective visual memory, marking a particular place, time and person. It is great that these works are being celebrated and shared in this way."
Building on the success of the 2013 exhibition, this year's Art Everywhere will be longer in duration, having been extended across a six week period.
Stephen Deuchar, director of the Art Fund described Art Everywhere as "a celebration of great British art" and that Sir Antony's work created for the project would be a "wonderful legacy - and a way of thanking the art loving public, who made the whole initiative possible".