'Europe's largest' illegal music press raided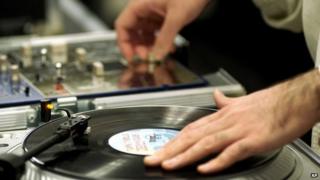 An illegal music pressing plant thought to be the biggest in Europe has been shut down by police in Germany.
"Significant" numbers of pirated CDs and vinyl records were seized, as well as DVDs, authorities have said.
State prosecutors are investigating an unidentified individual after raiding several properties in the southwest of the country.
CDs remain popular in Germany where vinyl sales are also growing rapidly.
Florian Drucke, the head of the German federal music industry association, BVMI, said "with a market share of about 70%, high demand for CDs in Germany is evident not only in the legitimate business, but unfortunately also on the illegal market".
BVMI's anti-piracy work with the international recording industry organisation, IFPI, and intellectual property organisation, proMedia, prompted police to investigate the illegal factory, according the Hollywood Reporter.
Praising the work of the prosecutor and the police, Mr Drucke said the raid had "enabled us to pull the plug on the largest-ever undercover pressing plant for music records in Europe".
"The equipment found here demonstrates once again that this is not the work of petty criminals", he added, "but of professional organizations whose criminal activities inflict massive damage on artists and the recording industry".
The IFPI's antipiracy chief, Jeremy Banks said the plant's closure showed that "while digital piracy makes the headlines, this case clearly shows that the industry also continues to take action against those who illegally make money through the manufacture, distribution and sale of unlicensed physical media".