First printed book in English sold for over £1m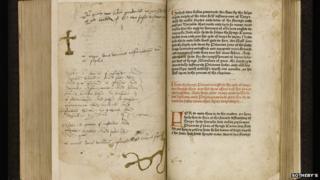 A 540-year-old book, known as the first to be printed in the English language, has sold at auction for more than £1m.
The Recuyell of the Histories of Troye is a version of a French book written around 1463.
It was translated over a three-year period by William Caxton, who pioneered the printing press in England.
He published his version around 1474, at a time when when most books were printed in Latin, in either Ghent or Bruges, Belgium.
The story is an epic romance which portrays the heroes of Greek mythology as chivalric figures, according to Sotheby's, which auctioned it.
It was produced as a gift for the Duke of Burgundy's new wife Margaret - the sister of the English King, Edward IV.
The book was offered for auction by the Duke of Northumberland, who has been selling off dozens of family heirlooms after his estate was left with a massive bill for flood damage.
Last week, £32m of sculptures, ceramics, paintings and furniture were offloaded. A 1st Century Roman marble statue of Aphrodite - the Greek goddess of love - fetched £9.4m alone.
The sale was prompted by floods at Newburn, Newcastle, in 2012, during which a culvert collapsed and led to buildings being demolished.
Bidding war
The guide price going into the auction was £600,000 for a volume that is one of only 18 surviving copies.
But a bidding war between three rivals pushed the auction up to a hammer price of £900,000, with the buyer paying £1,082,500 after the Sotheby's added its commission.
Sotheby's books specialist Gabriel Heaton said the work marked "a watershed moment in literary history when 'the father of English printing', William Caxton, embarked on the radical commercial decision to print the first book in English".
"Produced at a time when printing in the vernacular was still in its infancy, and when there was a relatively small domestic readership, this was a risky enterprise", he added.
The Recuyell of the Histories of Troye was the first book Caxton printed, and its production appeared to take its toll on a man who was a leading figure in the 15th Century English mercantile community.
In the book's epilogue, Caxton said "In the writing of the same my pen is worn, mine hand weary and not steadfast, mine eyes dimmed with overmuch looking on the white paper".