Oscar-winning film editor Tom Rolf dies aged 83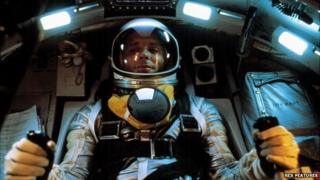 Tom Rolf, who won an Oscar for his work editing the 1983 space epic, The Right Stuff, has died aged 83.
In a career spanning four decades, the respected editor worked on over 40 films.
His credits included Michael Mann's Heat, Robert Redford's The Horse Whisperer, and Martin Scorsese's Taxi Driver, for which he won a Bafta nomination.
He won a career achievement award from the American Cinema Editors in 2003.
Born in 1931 in Stockholm, Sweden, Rolf was a a ski patrolman and a seaman for the Norwegian Merchant Marine before emigrating to the US and entering the entertainment industry.
He was given career guidance by his step-father, Jack Donohue - a choreographer and director at MGM - who advised him to go into the cutting room.
"You will learn everything about directing by being a film editor first," he recalled being told.
But he stayed in the editor's chair throughout his career, working on the likes of 9 1/2 Weeks. The Pelican Brief and Wargames.
He served two terms as president of American Cinema Editors (ACE), and was a governor at the Academy of Motion Picture Arts and Sciences for 15 years.
Speaking to the Hollywood Reporter in 2010, Rolf said he had most enjoyed working on Adrian Lyne's 1990 film, Jacob's Ladder, which starred Tim Robbins.
"I so admire Adrian Lyne for trying to do it", Rolf said.
"It was sold as a horror picture, which it was not. It was a psychological thriller. I think had it been marketed that way, it would have done much better.
"I'm very proud of that one".
"My job is to help the director realise his vision," Rolf added.
"I think people hire me because they know that I'm going to put in a full day, I'm going to tell them the truth, and I'll voice my opinion when I think it's needed".