Elaine Stritch: Stars pay tribute to Broadway legend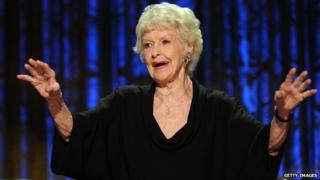 Stars have hailed the life and work of Broadway star Elaine Stritch, who has died at her home in Michigan aged 89.
Liza Minnelli called the veteran performer "a magnificent woman in every sense of the word... her talent and spunk will be greatly missed".
Former co-star Mia Farrow called Stritch "a force of nature", adding "she won't know how to rest in peace!"
The singer and actress won Emmy and Tony awards during her career, and starred in sitcom Two's Company.
Stritch also played the overbearing mother of Alec Baldwin's character in US comedy 30 Rock, which won her an Emmy Award, and also won a US TV award for her appearance on Law and Order in 1990.
The actor said on Twitter she was a "true one in a million", and added: "I'm sure that even God is a bit nervous right now."
The lights on Broadway are due to dim on Friday night for one minute in honour of Stritch, who made her name in New York and was well-known in the city for her distinctive dress sense.
Farrow, who played Stritch's on-screen daughter in 1987 film September, added that she was an "iconic entertainer, my wonderful movie-mom".
Actress and Broadway musical star Patti LuPone worked with Stritch and told Time magazine's website that she was the "benchmark" for solo stage shows.
"My son recorded a message that she left for me on my answering machine which was a validation from Elaine to me - which my son has kept, so I'll always have a piece of Elaine," she added.
Actress and writer Lena Dunham said: "Here's to the lady who lunched: Elaine Stritch, we love you. May your heaven be a booze-soaked, no-pants solo show at the Carlyle."
Dunham referred to Stritch's style of wearing nothing but a loose-fitting shirt, black tights and high heels for one of her one-woman performances.
She performed her swansong shows at the Carlyle, a New York hotel, where she lived for several years.
Stritch began her career in the 1940s, appearing in a string of hit Broadway shows. In 2010, she returned to Broadway, appearing in Stephen Sondheim's A Little Night Music, taking over the role of Madam Armfeldt from Angela Lansbury and garnering critical acclaim.
The singer was well known for her gravelly voice, brash style and sometimes caustic wit.
She joined Twitter earlier this year, asking on one occasion: "Will someone please explain this term 'global trending' to me. Is that like a disease?"
Stritch was no stranger to London's West End, appearing in productions of Neil Simon's The Gingerbread Lady and Tennessee Williams' Small Craft Warnings.
The performer embarked on her New York farewell tour last year before retiring to Michigan due to ill health.
In typically no-nonsense style, Stritch said: "I'm going to kind of take it easy. Every time I leave the building, I fall on my ass."