German artist Otto Piene dies aged 86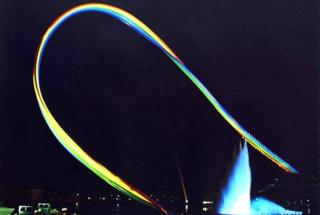 German artist Otto Piene, known for his colourful paintings and gigantic open-air sculptures, has died aged 86.
A leading figure in technology-based art, his most famous work was the 1,600ft Rainbow that lit up the Munich sky at the end of the 1972 Olympics.
Piene died on Thursday, shortly after the opening of an exhibition of his work at Berlin's Neue Nationalgalerie.
He had been "full of happiness" at the opening on Wednesday, said Germany's Der Taggespiel newspaper.
According to the Berliner Morgenpost, Piene died while in a taxi on his way to continue preparations for a "Sky Art Event" at the Neue Nationalgalerie on Saturday.
The gallery has not confirmed whether the event will go ahead in tribute to the artist.
Zero Group
Piene was born in Bad Laasphe, Germany, in 1928 and studied art in Munich and Dusseldorf, as well as taking a degree in philosophy at Cologne University.
He founded the influential European post-war movement Group Zero with Heinz Mack in 1957, as part of an effort to transform and redefine art in the aftermath of the Second World War.
The name referred to the countdown for a rocket launch and, according to the group, was meant to evoke "a zone of silence [out of which develops] a new beginning".
"Artists after the war turned against technology, because war is technology," Piene explained to Art in America magazine in 2010. "Zero was about the pure possibilities for a new beginning."
The experimental movement was the precursor of minimalism and conceptual art, and they challenged people's perceptions of art, space and materials.
Piene developed the Grid Picture, a type of stencilled painting made from half-tone screens, which led to his Light Ballet series, in which light from moving torches was projected through grids, altering the viewer's perception of space.
He was also known for Rauchbilder (smoke pictures), in which the artist applied solvent to pigmented paper and set it on fire, before creating images from the soot.
But his biggest projects were his "Sky Art" - including the Olympic Rainbow, which consisted of five multi-coloured helium-filled polythene tubes, which illuminated the sky over Munich's Olympic Park.
Speaking in 2006, the artist said it had been "a moving and important experience," after the Palestinian terrorist attack which left 11 Israeli athletes and one German policeman dead.
The decision to go ahead with the closing ceremony, and to float the rainbow above it, gave the nation an "incredible release", Piene said.
"People really got the feeling that there was a reason to hope, that not everything from now on would be disaster, death and destruction."
In 1974, Piene was appointed director of the Massachusetts Institute of Technology's Center for Advanced Visual Studies. He retired in 1993.
At recent public appearances, he used a walking stick or wheelchair to get around.
His death was confirmed on Friday by Markus Farr, a spokesman for the Friends of the Neue Nationalgalerie, which organised his most recent exhibit.