Havers recaptures youth in Importance of Being Earnest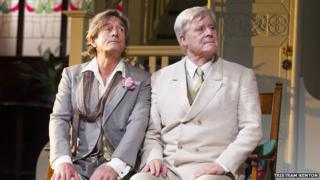 In 1982, Nigel Havers and Martin Jarvis appeared in Oscar Wilde's The Importance of Being Earnest at the National Theatre. Now they are playing the same roles in a new West End production that boasts a cast with an average age of nearly 70. How so?
"Let's face it," says Havers. "In order to do The Importance of Being Earnest again, you've got to have another angle. You can't just roll out another production. You've got to have something different."
The twist to this latest version, just opened at the Harold Pinter Theatre, is a play-within-a-play structure - written by novelist Simon Brett - that explains why the ages of the principal cast range from 57 to 81.
A brand new opening scene shows a group of veteran amateur actors, the Bunbury Company of Players, rehearsing Wilde's classic comedy in a country house.
In reality, the cast includes Sian Phillips, 81, as Lady Bracknell and Cherie Lunghi, 62, as Gwendolyn Fairfax.
Havers, 62, and Jarvis, 72, reprise their 1982 roles as the bachelors Algernon Moncrieff and John Worthing. In that production, Sir Peter Hall was directing and Dame Judi Dench was Lady Bracknell.
Backstage at the Pinter before a preview performance, Havers explains that he had always wanted to return to the role of Algernon.
"I took Martin out to lunch and said, 'Let's do it again' and he said, 'Don't be ridiculous, we're far too old'. So we got thinking about the idea of a company of people who wanted to put it on."
Producer Rupert Gavin approached Lucy Bailey to direct. By coincidence, she had been a visiting student at the rehearsals of the 1982 play at the National and recalls the "terrific chemistry" between Havers and Jarvis.
Bailey was initially sceptical about the idea of them playing the same roles three decades later.
"My first instinct was that they are in their sixties and seventies doing this play - is that what we should be doing? But it felt so serendipitous that I had seen them 30 years ago and so enjoyed them."
Bailey, whose recent bloody Titus Andronicus revival at Shakespeare's Globe caused members of the audience to faint, had never directed an Oscar Wilde play and admits she may have had "a certain prejudice" about him.
"I've been astonished by the humanity of the writing and the wit," she says. "But it is what is underneath that is so moving - because he examines and pokes fun at a deep callousness and repression that was there in the Victorian period."
Last year at the Old Vic, Vanessa Redgrave and James Earl Jones played reluctant lovers Beatrice and Benedick in Much Ado About Nothing. They were aged 76 and 82, respectively, and no reference was made to their ages.
For The Importance of Being Earnest, Bailey feels that without the premise of the play-within-a-play the casting of an older company of actors "would potentially jar at some point".
She says: "Have we brought something to it by them being older actors? I think yes - because the expertise is so blatant and assured that it's got round a lot of the difficulties of saying Oscar Wilde's lines, which are incredibly constructed and artificial. So the pure skill of the actors has made these lines liquid."
But how OK is it to tinker with Wilde's play?
"People tinker with Shakespeare, people tinker with everything," argues Havers. "I don't know why anyone would be so purist about Oscar. I have a feeling he would love what we're doing. We don't mess around with his play at all. Every word is there."
Along with Havers, Lunghi is one of the younger members of the cast. "Everyone keeps saying we are playing people half our age, but I've got to be honest - they are a third of our age," she says, laughing.
She likes the idea of the invented Bunbury Company of Players perhaps doing another play. "We've spoken about it in jest. I was saying to Nigel I could play Juliet to his Romeo. The possibilities are endless. It's a chance to play the parts I haven't got round to playing."
Havers agrees: "I wanted to find a way of doing a play I love again. I have no grumble with getting older in that respect.
"I'm spending the summer of 2014 being 26 - what could be cooler than that?"
The Importance of Being Earnest is at the Harold Pinter Theatre until 20 September before a UK tour.