Jane Fonda and Willem Dafoe lend voices to The Simpsons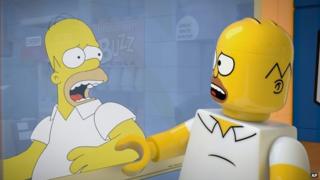 The Simpsons will feature the guest voices of Jane Fonda and Willem Dafoe in its forthcoming new season.
Fonda plays Mr Burns's girlfriend, while Dafoe will voice Bart's new teacher, Mr Lassen.
Parks and Recreation actor Nick Offerman will feature in later episodes, along with comedian and writer Sarah Silverman.
The 26th season of the popular animation comedy starts on Fox on 28 September.
Frasier star David Hyde Pierce, who has already voiced Sideshow Bob's brother Cecil, will also return as a guest voice and a special episode has been written by director and producer Judd Apatow.
Fox has also announced celebrity guest voices for the next season of animated series Family Guy.
That season, which also launches in September, will feature a crossover in which the Simpsons meet the Griffin family.
The Family Guy series will include the guest voice of actor Liam Neeson.