The Imitation Game to open London Film Festival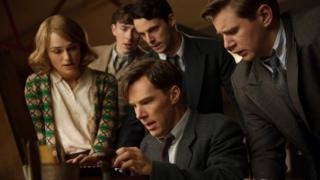 Codebreaking drama The Imitation Game, starring Benedict Cumberbatch, is to receive its European premiere at this year's BFI London Film Festival.
The film sees the Sherlock actor star as Alan Turing - the British computing pioneer who cracked the German Enigma codes during World War II.
Keira Knightley also stars as Turing's close friend and fellow code-breaker Joan Clarke.
The film will open the festival on 8 October at the Odeon Leicester Square.
Cumberbatch, Knightley and director Morten Tyldum are expected to attend the premiere, with simultaneous screenings also taking place at cinemas across the UK.
'Extraordinary performances'
The Imitation Game follows the race against time as Turing and his team at the top-secret codebreaking centre at Bletchley Park attempt to decipher German naval messages and help end the war.
Matthew Goode, Mark Strong, Rory Kinnear and Charles Dance also star.
Festival director Clare Stewart said the film featured "extraordinary performances".
"The Imitation Game does cinematic justice to Alan Turing's vision, determination and personal story as well as his enduring impact on British history and contemporary life," she said.
Turing killed himself in 1954, two years after being prosecuted for gross indecency after he fell foul of anti-gay laws at the time.
The conviction meant he lost his security clearance and had to stop his code-cracking work.
In 2009, former Prime Minister Gordon Brown released a statement of apology on behalf of the British government for Turing's "appalling" treatment.
He received a posthumous royal pardon in December 2013, with Justice Minister Chris Grayling saying he undoubtedly shortened the conflict and saved thousands of lives.
"Turing deserves to be remembered and recognised for his fantastic contribution to the war effort and his legacy to science. A pardon from the Queen is a fitting tribute to an exceptional man," he said.
With the festival screening billed as the European premiere, it would suggest the world premiere will most likely be the Toronto Film Festival in September.
The London Film Festival runs from 8-19 October.