Judith Weir to be first female Master of the Queen's Music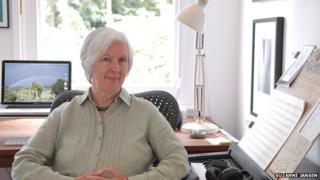 Composer Judith Weir CBE is to become the first female Master of the Queen's Music.
Weir, who succeeds Sir Peter Maxwell Davies, will be appointed for a fixed term of 10 years.
The Queen will receive Weir when she takes up her appointment on Tuesday. Her Majesty will also receive Sir Peter as he relinquishes the position.
The Master of the Queen's Music is an honorary position conferred on an eminent musician.
There are no fixed duties involved although the Master may compose pieces for Royal or State occasions.
Weir said: "It is a great honour to take up the position of Master of the Queen's Music, in succession to Sir Peter Maxwell Davies, who has given his musical and personal gifts so freely to this unusual national role.
"I hope to encourage everyone in the UK who sings, plays or writes music, and to hear as many of them as possible in action over the next 10 years," she added.
"Listening is also a skill, and I intend to uphold our rights to quietness and even silence, where appropriate. Above all, our children deserve the best we can give them, and that includes access to live music, whether as learners, performers or listeners."
BBC Singers
Weir was born to Scottish parents in 1954 and grew up in London. She played the oboe and spent several years working in education, culminating in a teaching post at Glasgow University and the Royal Scottish Academy of Music and Drama (now called the Royal Conservatoire of Scotland).
She was resident composer with the City of Birmingham Symphony Orchestra in the 1990s, where she wrote several works for orchestra and chorus which were premiered by the then music director, Sir Simon Rattle.
She has also written a series of operas. The latest, titled Miss Fortune, was staged at the Royal Opera House in London in 2012.
The BBC Singers have also announced that Weir is to become its new associate composer starting from 2015, a tenure which will run until 2018.
Pianist Benjamin Grosvenor will premiere her new work Day Break Shadows Flee for solo piano on 1 September at Cadogan Hall as part of the 2014 BBC Proms.
The Master of The Queen's Music is paid an honorary stipend for his or her work.
Sir Peter Maxwell Davies was appointed in March 2004. On the appointment of Sir Peter, the term of the position was changed from life tenure to 10 years, giving more composers the opportunity to take up this honorary position.
The post of Master of the King or Queen's Music has a long history. Kings and queens dating back to the Middle Ages and earlier would employ a band of musicians as part of their households.
Other previous holders of the post include Edward Elgar and Malcolm Williamson.