Gaza rockets force Tyrant out of Tel Aviv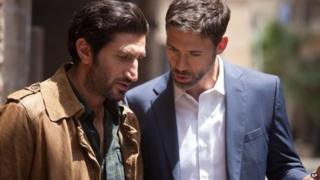 US TV drama Tyrant has stopped filming in the Israeli city of Tel Aviv because of the current conflict in Gaza.
"Tel Aviv was under missile fire and people were running into bomb shelters," producer Howard Gordon said.
"I don't think anybody felt physically threatened, but it was not conducive to shooting," he added.
Production on the show has been moved to Istanbul in Turkey, where the remaining two episodes of the first season will be filmed.
Cable channel FX, which makes the show, said "although we have been assured that Tel Aviv continues to be a safe location, we felt the cast and crew would be more comfortable being outside of Israel".
Palestinian militants have fired hundreds of rockets at Israeli cities as airstrikes have pounded Gaza.
British actor Adam Rayner stars in the drama as the son of a fictional Middle East dictator who returns after living in the US for 20 years.
Other cast members have used social media to air their feelings about working in Tel Aviv during the conflict.
Actress Jennifer Finnigan tweeted: "Please pray for peace tonight... it is so eye-opening and heart-breaking (and scary) to witness this firsthand."
Tyrant's producers said they were monitoring the situation and hoped to return to Israel to continue working there in future.