John Tavener works receive Proms world premieres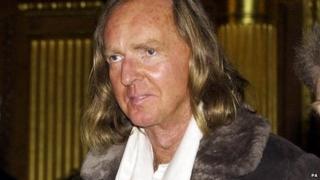 "I think that people keep going back to him because every so often there has been iconic work."
It's a simple observation by the acting director of the BBC Proms, Edward Blakeman, that sums up the appeal of British composer Sir John Tavener.
Since his death last November, several late works by this deeply religious man have emerged.
And the Proms will see the two posthumous world premieres of BBC commissions from the composer.
Blakeman says the decision to commission the two pieces that feature at the Royal Albert Hall this season - Gnosis and Requiem Fragments - was based on two things. Sir John would have celebrated his 70th birthday this year, an event the Proms wanted to mark and he was the ideal composer to write music that would chime with commemorations of the 100th anniversary of the start of World War One.
"Issues of peace, and how you finally break the circle of violence in humanity, were things that (he) just dwelt on all the time," says Blakeman. "So this a very poignant and very pertinent moment to be bringing these two new works to the public."
But while an anniversary and a birthday might be convenient pegs to hang a commission on, they don't account for the enduring appeal of Sir John, who first came to prominence in 1968 with his composition The Whale.
Blakeman believes the composer has remained popular because of his desire to communicate musical ideas in ways that can be readily understood.
"Every so often there have been works from John which have reminded everyone what a wonderful composer he is and have sent people back to him," says Blakeman, pointing to the popular carol, The Lamb, and Song For Athene, another small choral piece which featured in the funeral of Diana, Princess of Wales.
"He was absolutely fantastic at writing something exquisite as almost a miniature - five or six minutes - and they inhabit the same sound world as his larger pieces," Blakeman adds.
"So I think people who come to John through maybe hearing some of those smaller pieces have then gone on to explore the bigger pieces and found the same richness."
Insights
Blakeman spoke to Sir John several times during the commissioning process.
The composer was preoccupied with understanding spirituality and was keen to write Gnosis - which takes its title from the Greek word for knowledge.
The piece was dedicated to the singer, Sarah Connolly, who reveals in the Proms programme that the composer's score includes directions such as 'apocalyptic', 'suddenly still', and 'rapt and intense'.
Had he lived to witness the premieres, Sir John would have been present at rehearsals to help direct the performances.
"We're very lucky because when John wrote Gnosis he had Sarah Connolly's voice in mind," says Blakeman, "so she will have insights about how John wanted this to sound."
Another musician with close knowledge of Sir John's work is conductor Peter Phillips. The founder of the Tallis Scholars - a choral group the composer greatly admired - Phillips was a long time friend of Sir John.
He played a part in the composition of the second of this season's Tavener premieres, Requiem Fragments.
"Half of it had been written when I last went (to see Sir John)," he explains.
"I went to stay with John Tavener about 18 months ago and he was working on it. He was sitting on his sofa - he was in some pain by then - and he was working slowly, but I could see that he was working on something and he said, 'This is a requiem'. So I was very interested."
Sir John had asked Phillips to bring with him the score to a complicated piece, a 24-voice canon by the Renaissance composer Josquin des Prez.
"We sat there with this tape going round and round and round," says Phillips.
"We listened to it 10 times or so while he sort of watched the score go by.
"Anyway I left the next day and afterwards I heard that he was going to dedicate the Requiem to me - of course I was thrilled to bits.
"And when I finally saw the score," says the conductor, "the other half that he hadn't yet been written was a very complicated canon, and I assumed - I think it must be true - that the Josquin had influenced him. It's big stuff - it looks tremendous on paper."
Requiem Fragments is not, as the title suggests, an incomplete work, but a fully-formed piece in which the composer superimposed references to Hindu philosophy onto the Latin text of the funeral service.
Phillips is yet to hear the work - rehearsals for the performance won't start until just a few days before the premiere - but he says the score reminds him of another piece by Sir John that he also had a hand in, Ikon Of Light, which will be performed alongside Requiem Fragments.
'Emotive occasion'
"The fact that the Ikon Of Light has a string trio and the Requiem Fragments has a string quartet, and the canonic element, this mathematical clever thing, is in both - it strikes me as really extraordinary that over 30 years he produced something that really sort of bookends my work with him."
It will be an emotional moment for Phillips when he takes to the podium to conduct the work in public for the first time.
"I'm hoping, I'm expecting, to find him again in these notes. I knew him really well and we actually worked together on the Ikon Of Light.
"It's going to be a really emotive occasion," he says, "I wish he was here to hear it."
And Phillips hopes that the new Requiem Fragments enjoys the same success as some of Sir John's other works
"I hope it establishes itself as a masterpiece like The Lamb has done and The Protecting Veil and all his other great achievements," he says.
"We'll just do our best to push it on its way."
The world premiere of Gnosis features in Prom 7 on 23 July. Peter Phillips conducts the world premiere of Requiem Fragments in an all-Tavener programme in Prom 25 on 4 August. Both concerts are broadcast live by BBC Radio 3.