Fiddler on the Roof's 50 years of musical success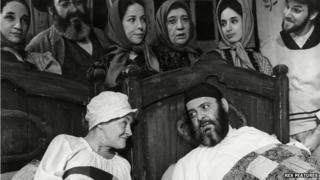 It's exactly half a century since the premiere of Fiddler on the Roof - among the most successful stage musicals written to date. In 1964 Sheldon Harnick and his colleagues worried that the setting, a small Jewish township in eastern Europe in the early 1900s, might limit the show's appeal. But, says Harnick, the show's real subject is a universal one - family.
Sheldon Harnick is 90 and in a long career he's seen a lot change in New York theatre.
"Back in the Sixties," he recalls, "if you were producing a show you did backers' auditions to raise the money."
"I remember one audition for Fiddler. As people left I heard someone say dismissively 'Oh once they run out of Hadassah benefits there'll be absolutely no audience for it'. At the time I feared maybe they were right."
In America Hadassah is the main Jewish women's organisation.
Fiddler on the Roof was the fifth show written by lyricist Harnick and composer Jerry Bock. The others had been flops or had modest financial success.
The show's script was by Joseph Stein. Bock and Stein both died in 2010.
"Years before, a friend sent me a novel called Wandering Star about a travelling Yiddish theatre group in eastern Europe. I loved it so I asked Joe Stein would it work as a musical.
"Joe said it was too big and had too many characters but we dug out other pieces by the same author, Shalom Aleichem. We found a book of short stories called Teyve's Daughters: that's where Fiddler came from."
Fiddler on the Roof opened at the Fisher Theatre in Detroit on July 27th 1964.
On Broadway it would be the first musical to exceed 3,000 performances and in 1972 it became the longest running Broadway musical to date. (Several shows have overtaken it since.)
Sheldon Harnick says ultimately he decided the play's setting was secondary.
"People thought it was the great Jewish musical which obviously is thrilling. But I've been watching audiences react now for 50 years and at heart the story is about family. It's the most universal story there is."
Every songwriting duo writes in a different way: Bock and Harnick's method was to be in different rooms.
"Jerry would put the music onto tape as piano pieces. I'd get a reel of tape delivered which sometimes contained eight or ten pieces for my consideration.
"I would listen and maybe in a couple of numbers something caught my attention and I'd get to work on a lyric. It could be a wonderful waltz or I might pick up on a little march theme. That was how a show came together.
"People told us we were brave to be doing a very specifically Jewish show. I used to tell them I spent three years in World War II in the army fighting Hitler. Maybe that was brave: this was just Broadway."
Fifty years ago it was the norm to open a musical well away from New York to give a chance to sort out problems. Harnick remembers the experience vividly.
"Detroit was in the middle of a newspaper strike which meant we got no publicity. It was a five-week run and Harold Prince, the producer, told me we had no bookings after the third week and disaster loomed.
"But you just get on with fixing the show. I remember the director Jerome Robbins telling the cast we would fix one thing a day with the script or the staging and that way we'd get to New York in good shape."
When finally Fiddler on the Roof reached Broadway the critics were full of praise for the star Zero Mostel, who played the dairyman Tevye.
The New York Times said his performance was "one of the most glowing creations in the history of the musical theatre".
"Zero Mostel was a comedic genius," says Harnick. "He was extraordinarily inventive but unfortunately that inventiveness meant he wasn't suited to giving the same performance six times a week plus matinees. He got bored and a bored star can be problematic.
"Zero would ad lib lines. Or he stood where he wasn't supposed to stand and destroyed other actors' cues.
"He would create bits of stage business to delight the audience and stop the show. But that was the problem: he stopped the show. He had a real talent but he was also impossible."
After nine months the central role of Tevye was recast. "I told Zero I was sorry to see him go. But he said you're just sorry to see the box-office grosses fall. Actually when he left the box-office didn't fall, which broke Zero's heart."
In London, the role of Tevye was taken by Israeli actor Chaim Topol, who went on to star in the 1971 film. Harnick liked his performance but says the best Tevye ever was an actor little known outside America called Herschel Bernardi.
Reaching the age of 40, Harnick found himself with the biggest hit on Broadway. Songs such as If I Were A Rich Man, Sunrise Sunset and Matchmaker were heard everywhere.
"The early shows I did with Jerry more or less persuaded me I could have a career as a writer, though there were days when I doubted even that.
"My first show had been a five-week flop and She Loves Me (1963) was what people politely term a 'succes d'estime' - meaning it got good reviews but didn't pay off the investors. So I think you could call Fiddler's success comforting for everyone concerned. I became financially secure and I was sought after as a lyricist."
In 1970, Bock and Harnick returned to Broadway with The Rothschilds. But tensions arose and the writing team hailed as the new Rodgers and Hammerstein split up.
Harnick later worked with composers including Michel Legrand. Today he's often asked to give advice to young would-be composers and lyricists.
"My first advice to anyone who wants to write lyrics is simple - read widely.
"You never know what your assignment is going to be. It's important to feel comfortable in most genres and different styles. So even in this online age, I tell everyone read, read, read.
"A lyricist is a kind of playwright. You need to be able to write for character and situation. What would these characters speak like? How were they educated? Those are the questions you need answers to."
At 90, Harnick still goes to almost every new musical on Broadway.
"For one thing I'm a Tony voter so I'm required to see them and at today's prices that saves me thousands of dollars. But I'm not someone who complains about the state of musical theatre: there's real talent out there.
A new staging of Fiddler on the Roof is due on Broadway next year. In the meantime Harnick still takes an interest in productions around the world.
"I've been with my wife Margery to see it in Holland and Finland and Japan and many other places. I always listen for where the laughs come. There's sentiment in Fiddler, sure, and maybe a kind of nostalgia. But to hear an audience laugh at a show you wrote all those years ago - that's a thrill."