Man Booker Prize: Paul Kingsnorth on his novel The Wake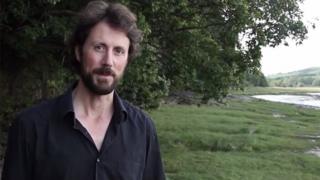 The 2014 Man Booker Prize longlist has been announced, with 13 titles vying for the £50,000 award.
Among them is Paul Kingsnorth's debut novel, The Wake, which was published after 400 readers pledged money to a crowdfunding campaign.
The author spoke to the BBC's Rebecca Jones about being longlisted for the Booker Prize, and the unusual birth of his book.
---
What is your reaction to being on the Booker list?
Great surprise! I knew the book had been entered for the Man Booker but I didn't expect it to get anywhere near the longlist - it's such a strange and left-field book so I'm very pleased indeed.
When you say it's a strange book what do you mean?
It's a book that is written entirely in its own language. It's written in a kind of "shadow tongue," as I call it - which is my version of Anglo-Saxon English because the book is set in the Anglo-Saxon period.
It's full of very strange mystical episodes and its crowdfunded by Unbound which is an innovative publisher so it's something news and strange in various ways.
What did traditional publishers say when they read the book?
I got a response from one who said: "I really like the story, but would you consider writing the story in modern English?" And I said no because the entire point of the book is that it's written in this tongue which takes you into this world.
I can understand the caution - it's a slightly strange beast - but I needed a publisher who could really get what I was doing and I managed to find one.
Tell us about the crowdfunding and how that worked.
The book is published by Unbound which is a new kind of publisher. The way it works is, in order to get the book published on its initial print run, you have to have enough potential readers pledging to support the book financially.
I needed about 400 people to support it so we made a film and went and talked to people and used social media and we managed to persuade 400 hardy souls they wanted to pre-order a copy of the book and at that point the book was published in the normal way.
One of the things that makes me so happy being on the longlist is that this book is a collaborative venture. Unbound is a reaction to the great difficulties in the publishing world at the moment and they're trying to create one of many new models of publishing.
The Wake is the first crowdfunded book on the Booker longlist but I wouldn't be surprised if it was the last.
When you say the great difficulties of publishing what do you mean?
I think the publishing industry is in various degrees of turmoil. As far as I can see, the internet is changing the face of publishing hugely, [as is] the power of Amazon. It seems the traditional models of publishing just aren't working anymore.
What Unbound is doing and what I've done with this book is one alternative to that - to try and create a publishing model that works for readers and writers, so it's exciting to see it get some endorsement there.
What difference do you think this is going to make to you?
I have absolutely no idea! I hope it's going to make more people read the book, that would be nice. I really don't know - it's so unexpected I haven't had time to think about it so it's a very nice surprise for me to have received on a Wednesday morning.