Sir Elton John film is from 'birth to rehab' says writer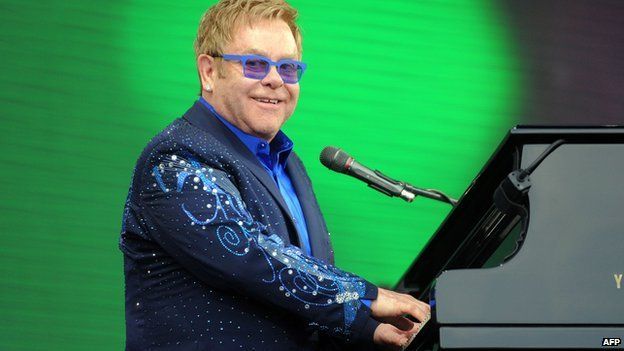 Billy Elliot writer Lee Hall says his new biopic about Sir Elton John will tell the singer's life story "from birth to rehab".
"I've been working on it with Elton for long time," Hall told BBC Radio 4's Front Row. "It's an absolutely huge, crazy Technicolor affair."
Starring Tom Hardy as the flamboyant musician, the film will be "about all the trouble he got into," he added.
Sir Elton admitted to being a "monster" at the height of his drug addiction.
He entered rehab in the 1990s, after which his career saw a resurgence and he had two children with his partner David Furnish, via a surrogate mother.
Speaking to presenter John Wilson, Hall said Sir Elton had given him "incredible free rein" on the script.
"One day, he took me to his house and opened a safe and he had all his private diaries that nobody had seen from when he was in rehab and left me there to read all this stuff.
"But he's never commented once on the script, he hasn't interfered at all."
Hall was Oscar-nominated for Billy Elliot, a story of an aspiring ballet dancer against the backdrop of the 1980s miner strike.
He later adapted the film, which was directed by Stephen Daldrey, for a stage musical. Sir Elton provided the music for the show - which is still running in London's West End after nine years.
Their collaboration led directly to the new film, titled Rocketman, with Sir Elton, 66, acting as an executive producer.
It will begin shooting in late 2014, according to Focus Features.
Hall said he saw parallels in the lives of Sir Elton and the fictional character of Billy, a young boy from a working class community who dreams of becoming a dancer.
"The more I talked to Elton, the more I realised that he was Billy Elliot," he explained. "He went to the Royal Academy when, I think, he was about 13 and he was studying to be a classical pianist and he discovered Elvis Presley and the rest is history.
"But I think it's about the struggles that he had, coming from the wrong end of the tracks, with his sexuality.
"It's what happened next to Billy Elliot, a sequel in a way."
Hardy, soon to be seen as Mad Max in a reboot of the cult Mel Gibson movie, is better known for his action roles than his music, although has revealed that he once had a recording contract as a rapper.
The question of whether he will get his tonsils around songs like Your Song and Rocketman, or simply lip synch to the tracks is yet to be answered.
Either way, "it's a really great project to have all that music to use," said Hall.
"It's fantastic, it's all singing, all dancing."
Related Internet Links
The BBC is not responsible for the content of external sites.