Possible Rodin and Degas works found at Gurlitt home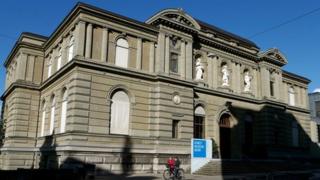 Two sculptures, possibly by Auguste Rodin and Edgar Degas, have been discovered in the home of the late art hoarder Cornelius Gurlitt.
The pieces were among a "small number" of new works found in the Munich flat by German officials.
Experts are now examining the pieces to determine their origin and whether they were looted by Nazis during WW2.
The task force investigating the art trove has declined to say how many new works were discovered.
Gurlitt, who inherited the priceless collection from his father Hildebrand, an art dealer who traded in works confiscated by the Nazis, died in May.
In his will, he left the art haul - more than 1,200 pieces including works by Chagall, Picasso and Matisse - to the Kunstmuseum Bern in Switzerland.
The museum has six months to decide whether to accept Gurlitt's bequest.
In June, a Matisse painting was the first of the paintings to be confirmed as looted.
The task force said the piece belonged to the family of a Parisian art dealer.
Hildebrand Gurlitt was ordered by Adolf Hitler to deal in works seized from Jewish families, or which the Nazis considered "degenerate".
The Matisse was taken from a Jewish art dealer, Paul Rosenberg, in 1941. The task force has said the painting should be returned to Rosenberg's heirs.
The art trove was discovered by authorities in 2012, while they investigated Gurlitt for suspected import tax evasion.