Of Mice and Men to be National Theatre's first live Broadway screening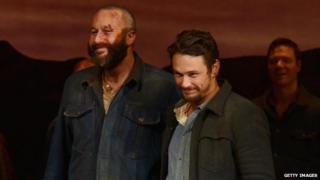 The National Theatre has announced that Of Mice and Men will be their first Broadway production to be screened live in cinemas around the world.
The New York staging of John Steinbeck's classic, starring James Franco and Chris O'Dowd, has been playing at the Longacre Theatre.
The NT said it was "thrilled" to add US theatre to its roster of live screenings, which began five years ago.
The play's producer, David Binder, said he was "humbled" to be chosen.
"I can't think of a greater honour that could be bestowed on this production of Steinbeck's masterwork than to have an opportunity for millions of theatre lovers around the world to see our production under the auspices of National Theatre Live," he added.
After the play's regular run comes to an end on Sunday, an extra performance will be filmed by the National Theatre in front of an invited audience and fed to cinemas in the UK and around the world.
The date for the screening has yet to be announced.
Some 40 productions from the NT and other theatres - all from the UK - have been screened in the NT Live programme to date.
Since 2009, a host of the NT's own box office hits including War Horse, Frankenstein and The Curious Incident of the Dog in the Night-Time have been beamed into cinemas.
Recent research suggested that taking live shows into the cinema did not have a negative impact on ticket sales in the theatres themselves.
Of Mice and Men, with its big name Hollywood leads, opened on Broadway in April.
Franco and O'Dowd's performances in the Depression era play earned rave reviews, with the Hollywood Reporter rating them as "beautifully crafted" and "tremendous" respectively.