Broods: New Zealand's next pop export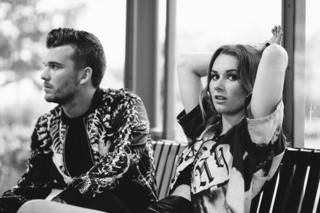 Broods only started writing music together last year, but the brother-sister duo are being tipped as New Zealand's next big musical exports. They speak to the BBC about talent contests, Grammy awards and growing up in public.
"Try not to ramble. Do not use the word journey. Never say it."
Caleb Nott is breaking the first rule of media training: You don't talk about media training.
"We've had the training, but we didn't listen," he says. "We just say whatever."
His sister Georgia tries to steer the conversation back on track.
"Media training is cool," she says. "It gets you thinking.
"But we still suck."
The candour is disarming, but it disguises the fact that the Notts - aka indie-pop newcomers Broods - are old hands at meeting the press.
They gave their first interview when Georgia was just 14, after an early incarnation of their band entered a talent show at a shopping centre in their hometown of Nelson, New Zealand.
"Mum made us do it!" laughs Georgia. "She entered us without even telling us!"
Playing a cover of KT Tunstall's Black Horse and the Cherry Tree, the siblings scooped first prize - $500 (£250) cash and a $1,000 (£500) voucher from the mall.
More importantly, their confidence got a turbo boost.
"I knew that I loved singing, but I didn't realise that other people loved my singing," says Georgia. "I was like, 'OK, maybe I should get going.'"
A brief stint in indie band The Peasants followed, but the duo decided to go it alone after finding the seven-piece stifling.
"A really big problem we found in bigger groups [is the] competitiveness," says Caleb.
"Everyone is competing to add something, whether it's absolute crap or not. In this project, if you've got nothing, it's all good. Whoever's got the mojo that day, you just back them up."
The siblings found their mojo pretty quickly - mining a rich seam of understated, melancholy electro-pop which, in turn, prompted the band's pun-tastic name.
"Broods refers to the fact that we're siblings, and that out music is very much inspired by us brooding," says Georgia.
The moniker seems obvious in retrospect, but the band went through "so many bad ones" before settling on it, Caleb says.
"One of them was 'Why July?' because Georgia and I and our other two sisters are all born in July."
"We even thought it'd be funny to call the EP Dirty October," he grimaces, picturing his parents doing things children should never picture their parents doing.
Thankfully, sense prevailed and the band's debut EP was given the sensible (if somewhat predictable) title Broods EP.
One of the last songs they completed was Bridges, a lonely piano ballad that plunges into a swirling synth chorus, as Georgia sings: "We're burning all the bridges now, 'Cause it was sink or swim, and I went down, down, down."
Little goes a long way
The band sneaked it onto Soundcloud late last year and watched, astonished, as the play count span so fast it blurred.
"It was pretty crazy because we literally put it up one day and it was being talked about on blogs the next," says Georgia. "We were like, 'Damn, we'd better finish the EP!'"
Luckily, the band were working with someone who had witnessed this sort of instant acclaim before: Joel Little, the guiding hand behind New Zealand's other hot pop export, Lorde.
The 31-year-old, a former singer in pop punk band Goodnight Nurse, steered Broods towards a darker aesthetic, working on their demos at the same time as he produced Lorde's Grammy-winning debut, Pure Heroine.
"He's been a huge part of the band. As big a part as we are," says Caleb.
"Not just as a musician, but as a mentor," adds Georgia, not for the first time finishing her sibling's sentence.
"He's an older brother who's been through it all. He's one of the main people we go to for advice, not just about the songs we write but the things we go through as musicians."
Broods affectionately call the producer their "musical father", and keep his ego in check following a double Grammy win, for Lorde's Royals, earlier this year.
"He'd like to be a badass but he can't," says Georgia, noting that Little will try to settle disagreements in the studio by casually saying, "Eh, do any of you guys know I won a Grammy?"
"He'd love to be one of those [arrogant] people like Kanye West," adds Georgia, "but he's too nice."
"The Grammy's very heavy, but it look less impressive than I thought it was going to be," Caleb adds.
"I thought there'd be hardcore detailing on there but no, it looks like something you'd get from the trophy store."
On the strength of their first EP, Broods signed to Polydor Records in Europe and Capitol Records in the US, and have been piecing together their debut album - Evergreen - amid a whirlwind of interviews, concerts and video shoots.
But rather than being stressed out by the schedule, they say it streamlines their songwriting.
"Because we're so busy and so tight on time, we have to just smash out the stuff that inspires us and let go of anything that doesn't," says Georgia.
"But I think that's better - if you have a song that isn't working, just flush it down the toilet."
One song that escaped the lavatorial graveyard was Never Gonna Change, a melodramatic break-up ballad, in which Georgia accuses her lover of "pushing down on my shoulders and emptying my lungs".
"I remember when I wrote those lyrics," the singer says. "I was at work, on a computer and I'd just broken up with my boyfriend and I was so gutted… I felt like all the air had come out of me. So I wrote those lyrics and kept going on it, even when I was supposed to be working."
Caleb picks up the story: "And then they got back together and have been together for over a year.
"It was a very short break-up, but we got a good song out of it. In the future, I'll be like, 'Jake, can you please break up with her just briefly next week? We need a song.'"
It's not the only song to be fuelled by anxiety and separation. The band's latest single, Mother and Father, was triggered by 19-year-old Georgia moving out of her childhood home.
"I don't want to wake up lonely," she sings over a strident synth beat, "I don't want to just be fine".
"The first time our mother heard it, she cried," Georgia says.
"We were playing with Ellie Goulding, and the last show was in Christchurch in New Zealand. It was the first time our parents had seen us play live and I dedicated that song to them. Mum was like 'Waaaaaa!'"
But Pauline Nott has no regrets about pushing her offspring into the limelight.
"Our mum's kept a scrapbook ever since we started playing music," says Caleb. "There's newspaper cuttings and everything."
"Oh, the photos," cringes Georgia. "Why?"
Her face momentarily flushes red - but the embarrassment explains why they've ignored the media training - when your baby steps are catalogued online, you can't deny your past.
"When we first started out we were so, so scared about what we should be saying," Georgia admits. "Are we supposed to be like this? Are we supposed to be like that?
"Then we came to the realisation that people don't want the 'fake us'. They just want to see who we are, so we don't have to try that hard.
"Random facts, that's all we talk about. And that's how we've got around the nerves."
Mother and Father is available now. Broods' debut album is due later this year.