Julian Lloyd Webber hits out at 'fixed' music competitions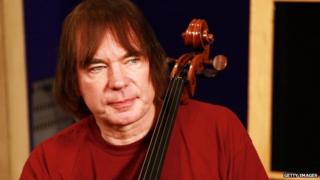 Cellist Julian Lloyd Webber has railed against "fixed" classical music competitions which he says young musicians should avoid.
The classical musician told Radio 4's Front Row: "Winning those competitions is nothing to do with ability."
He said that contenders have to "know someone on the jury" to stand a chance of success.
Lloyd Webber, who retired from performing this year, added that "gullible" musicians entered contests.
He did not single out any specific competition, but praised the BBC's Young Musician of the Year for being "very good" and "totally absolved" it from claims of corruption.
"These violin or piano competitions have specialist jurors, who are only violinists or pianists - they all know each other and know all their students and it just doesn't work.
"I think everyone knows when they go in for it that it's a fix. I don't understand why students keep going in for them because if they don't know someone on the jury they'll get knocked out in the first round.
"Don't go in for them," added Lloyd Webber, the younger brother of composer Lord Lloyd-Webber.
Julian Lloyd Webber, who has been a leading classical cellist for the last 40 years, recalled taking part in a German cello competition at the start of his career.
"I entered one once when I was 21. It was the so-called Munich International Cello Competition and I was knocked out in the first round with the only other cellist who went on to do anything internationally."
Lloyd Webber is due to tell students at the University of Birmingham on Monday of his misgivings about classical competitions, while telling them to "think outside the box" to stand any chance of success in the business.
He added that classical musicians have more opportunities than when he started his career and should be more diverse in their approach, looking beyond the standard repertoire.
"Young cellists always come to me with the same pieces. I wish one day they would bring me something I don't know," said Lloyd Webber.
The cellist was forced to end his career as a performer in April due a neck injury, which he says has left him with much less power in his bowing arm and reduced his ability to play powerful pieces.
"I think there's one last big thing for me to do. I'm not exactly sure what it is. I want to give something back. It's a wonderful, wonderful profession. I really don't miss travelling. Travelling with a cello is something to be avoided."
You can hear the full interview on BBC Radio 4's Front Row programme from 1915 BST.