Secret Cinema founder 'working tirelessly'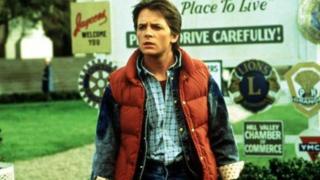 Fabien Riggall, the founder of Secret Cinema has spoken exclusively to the BBC News website on the "failure to meet technical requirements" which has caused the ongoing cancellation of an immersive screening of 1985 sci-fi film Back To The Future.
Why have the shows been cancelled?
What's happened is that we've been dong these events for the last 10 years [and this time] I think we've pushed it into the next phase of what Secret Cinema is. The ambition is great for this show and even though we were able to get the site ready in terms of of overall build, we've not been able to get to the point that we've needed to satisfy various parties.
Who are the various parties?
The local authority. Basically we're working with our landlords and the local council, which is Newham. Secret Cinema is a very different kind of experience to a normal concert or show, and it has taken longer to demonstrate to them so they are happy.
Was the situation that you tried to get permission every day, and every day the council would come back late in the day and say "no"?
I've got nothing against the local authority, I know they just want to really understand the show and we're really close to that. They're being incredibly helpful and constructive. But it's difficult, it's challenging, when you're doing something new for them to understand.
There were reports of health and safety issues. What can you say about that?
The allegations and stories going around online - I appreciate how unbelievably disappointed and frustrated people must feel. It's absolutely heartbreaking, but we've built a town in east London [and] the requirements that were placed on us... We've never had a problem in the past but we are working tirelessly to get this show running.
Will Saturday night's event go ahead?
I've made a decision that we're going to cancel all this weekend's shows. I believe we could open tomorrow, absolutely, but I don't want to give any more false promises. I would like to compensate that audience in terms of refunding their tickets or moving their tickets over.
Why have you left it so late to give notice of the cancellations?
It's not always nice working in live events and creating theatre shows out in the open. I've been close to the wire before - it's pretty much always close to the wire. We had thunderstorms for three or four nights last week [but] we believed we were going to open tonight, we believed we were going to open last night and we were working all the way up to the last point we could.
Will you refund people who've paid for train tickets and hotels to attend the show?
We are able to give refunds to those that want refunds and we are dealing with a case-by-case scenario to those who have travelled from overseas.