Book gift buying fall 'concerns' industry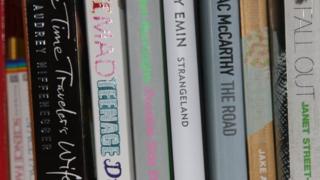 A fall in people buying books as gifts has contributed to an overall 4% fall in UK book sales over the past year.
The Nielsen Book Survey of book buying habits showed a year-on-year market decline in both volume and value in 2013.
The share of books bought as gifts fell from 24% to 22% - equating to a decrease of nine million books.
Research director Jo Henry called it a "concerning trend" which has also been seen in the US.
She said in view of "the importance of the gift market to the book industry" they are proposing further research to find out what is behind "the apparent decrease in the value that consumers are placing on books as gifts" and what might be done to reverse the trend.
Rise in self-publishing
The survey found physical book sales fell 9% in volume to 184.1 million units and 6.5% in value to £1.42bn.
The number of e-books sold increased from one-in-five to one-in-four of all books bought. But as they are sold at a much lower price than printed copies they only account for 14% of overall book sales.
E-book sales in adult fiction rose to more than 40% of purchases, with the share in adult fiction genres such as romance, crime and fantasy higher still.
E-books also gained sales in adult non-fiction - accounting for one in eight purchases - and in children's books, up to one in 10).
In children's books, the e-book share varied from one in five for adventure, fantasy and relationship stories, to less than 5% of non-fiction and younger children's formats.
The UK survey also recorded a rise in the number of self-published books being bought, both in print and "most particularly in e-book format" - this saw a commensurate rise in the market share taken by internet-only retailers.