Guardians of the Galaxy's quest to put the fun back into fantasy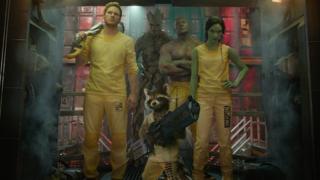 Move over, Iron Man. Get the door, Thor. There's a new team of comic book superheroes coming our way - and this time they've got a raccoon.
Two years on from Avengers Assemble, the latest comic book-inspired fantasy from the Marvel stable seeks to bring a new team of outlandish superheroes to the big screen.
Individually they constitute a cocksure human thief, a green female alien, a bald blue bruiser and a talking raccoon who never goes anywhere without his personal bodyguard... a walking tree named Groot.
Together they are the Guardians of the Galaxy, a lesser-known but still popular outfit whose escapades have been delighting comic book aficionados for decades.
To the uninitiated, though, who exactly are they? "A bunch of jerks," says James Gunn, the US director at the helm of an effects-laden behemoth that reaches UK cinemas on Thursday.
"They're a group of losers, outcasts and oddballs who are also criminals," continues the 43-year-old, whose subversive 2010 comedy Super marked his only previous dalliance with the superhero genre.
"They get together and, over a course of time, learn about something a little more important than themselves."
Any team that includes a deadly assassin (played by Zoe Saldana of Star Trek fame) and a trigger-happy raccoon (a computer-generated creation with the voice of Bradley Cooper) is not one to be taken lightly.
Yet lightly is precisely how Gunn approached a film he hopes will serve as a corrective to the portentous solemnity that has lately become one of the genre's default positions.
"I think that there's a little too much fake-seriousness in science fiction and superhero movies today," he says the day after his film's UK premiere.
"I don't think we need to drown everything out in brooding, low voices, just for the sake of appearing real. That seems more fake than real to me."
Troubled souls
Though he does not mention them by name, one suspects the Batman and Superman movies - the work of Marvel's main rival, DC Comics - are films he might see typical of that downbeat trend.
Batman Begins, The Dark Knight and last year's Superman "reboot" Man of Steel positioned their caped crusaders as troubled souls, haunted by tragedy and mistrusted by societies suspicious of their motives.
Marvel, in contrast, has adopted a lighter and more jovial tone, typified by Robert Downey Jr's wise-cracking Iron Man, the jauntily jingoistic Captain America and the fish-out-of-water antics of the hammer-wielding Thor.
It is this playfulness that Guardians of the Galaxy strives to emulate, as its leading man Chris Pratt - an American best known for his work in situation comedy Parks and Recreation - explains.
"Dude, it's comic books," exclaims the actor, who plays an earthling in space, Peter Quill, who has adopted the nickname Star-Lord. "Where's the camp? What happened to the fun?
"James Gunn is not a brooding guy and he's not trying to make a dark, brooding movie. There's nothing pretentious about it."
That much can be divined from the film's eclectic music soundtrack, which comprises a collection of '70s hits by the likes of David Bowie, 10cc and the Jackson 5.
Contained on an "awesome mix-tape" that constitutes one of Peter's few reminders of his home planet, the songs make a refreshing alternative to the orchestral bombast that usually underscores the exploits of costumed crime-fighters.
Space adventure
Throw in a variety of colourful supporting characters - played variously by Glenn Close, Benicio Del Toro and a shaven-headed Karen Gillan - and the result is an exuberant space adventure in the tradition of Star Wars, inevitably presented in the now ubiquitous 3D format.
Yet even in this context, declares Gunn, he was determined to make his protagonists seem as real and authentic as possible - raccoons included.
"Rocket to me was the heart of this movie," he explains. "I felt that if he worked the movie would, and if he didn't it wouldn't.
"I didn't want him to be like Bugs Bunny in the middle of The Avengers; I wanted him to be grounded and real.
"I think he's an incredibly sad creature. A lot of humour comes from that, and the way he covers it up with anger.
"I feel he has a lot of depth. He needed to work as a character, whether he was a raccoon or not."
A follow-up to Guardians of the Galaxy has already been scheduled for 2017, suggesting this will not be the last we see of Rocket, Gamora and Drax the Destroyer - played by former professional wrestler Dave Bautista.
It is a proposition that appeals to Pratt. "Heck yeah, I'm on board," he says. "It'll be awesome to do more of these.
"This is a real comic book movie," the 35-year-old continues. "I think this will re-invigorate and re-invent the genre and bring it back to a different era.
"I had a dream about three weeks ago that I saw the movie and hated it. But then I did see the movie and the pressure's off - we did an amazing job."
Guardians of the Galaxy is out in the UK and Ireland on 31 July.