Tracey Emin's My Bed set for long Tate loan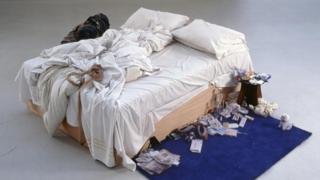 Tracey Emin's controversial artwork My Bed is to return to the Tate after selling for £2.2m earlier this month.
Count Christian Duerckheim, the piece's new owner, has agreed to loan the work "for a period of at least 10 years", said Tate director Sir Nicholas Serota.
The 1998 work features an unmade bed and a floor littered with empty vodka bottles, cigarette butts and condoms.
It was shortlisted for the 1999 Turner Prize and bought for £150,000 in 2000 by the art collector Charles Saatchi.
Count Duerckheim, a German industrialist, described the piece as "a metaphor for life, where troubles begin and logics die".
"I am absolutely delighted that Count Duerckheim has agreed to loan such an important work," said Sir Nicholas.
"We look forward to displaying the work [and] creating an opportunity for visitors to see a work that now has iconic status."
Speaking last month, Emin said she was hopeful that My Bed would end up in a museum after it was sold at auction.
"The best possible result is that an amazing benefactor buys it and then donates it to a museum," she told the BBC News website.
Following the announcement, the artist said she "could not be happier" and that she would "cherish" installing the piece at its new home.
"I have always felt My Bed belongs at Tate. And now it will be," she said.
According to the Tate, My Bed - created by Emin in her council flat near London's Waterloo station - is an "unconventional and uncompromising self-portrait [that] gives a snapshot of the artist's life after a traumatic relationship breakdown".
Details of when and where the piece will go on display will be announced in the autumn.
Born in 1944, Count Duerckheim has been collecting since the 1960s and owns one of the leading collections of international contemporary art.
My Bed was acquired by White Cube gallery owner Jay Jopling on the industrialist's behalf, the Tate revealed on Tuesday.