Dawn of the Planet of the Apes continues UK reign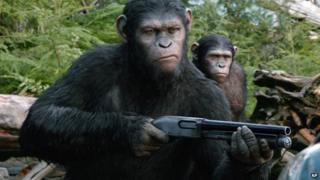 Dawn of the Planet of the Apes has easily held on to the top spot in the UK and Ireland box office in its second week of release.
The sequel to the 2011 hit Rise of the Planet of the Apes, which sees Andy Serkis reprise his motion-capture role as intelligent ape Caesar, took £3.75m.
Its nearest competition came from fantasy action Hercules, which entered the chart at two with £1.45m.
Close behind was horror sequel The Purge: Anarchy, taking £1.17m.
Dawn of the Planet of the Apes's total box office haul is just short of £17m after two weeks.
The film's hold on the top of the chart is likely to end this week however, when Marvel comic adaptation Guardians of the Galaxy is released on Thursday.
Elsewhere on the chart there were three other new entries.
Family sci-fi adventure Earth to Echo, about three friends who discover an alien, opened at six taking £618,379.
Asian action comedy Kick, starring Salman Khan, made its debut at eight with £239,850 - averaging £1,860 at the 129 cinemas it was screened.
Animated film The House of Magic, about an abandoned young ginger cat who stumbles into a magician's house, rounded out the top 10 taking £223,047.
Featuring the voices of Emily Blunt, Ewan McGregor and William Shatner, it averaged £724 across 308 screens.
UK and Ireland box office
1. Dawn of the Planet of the Apes - £3.75m
2. Hercules - £1.45m
3. The Purge: Anarchy - £1.17m
4. How to Train Your Dragon 2 - £990,959
5. Transformers: Age of Extinction - £803,063
Source: Rentrak