Andrew Lloyd Webber to sue over Superstar cancellation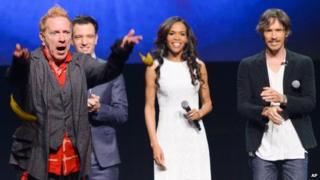 Andrew Lloyd Webber's production company, Really Useful Group, is suing the promoter of a cancelled US tour of Jesus Christ Superstar.
The show had been due visit 50 US cities, with a cast including Sex Pistol John Lydon and former Destiny's Child singer Michelle Williams.
But the promoter, Michael Cohl's Options Clause Entertainment, pulled the plug at the end of May.
Really Useful Group says it has "no option" but to recover its costs.
In a statement, the company said Michael Cohl and Options Clause Entertainment had agreed to promote the North American tour, and were "responsible for all of the costs associated with the US dates".
"Since Mr Cohl's unilateral decision to cancel the tour," it continued, "the Really Useful Group has been tirelessly working to find an out of court settlement of the costs incurred by cancellation at such a late stage.
Barney Wragg, chief executive of the Really Useful Group, added he was "hugely disappointed to be let down in this way, particularly taking into account the impact (both personal and financial) that it has had on the many people who have put so much hard work into this project."
"We had a sell-out UK arena tour of Jesus Christ Superstar in 2012," he added in a statement, "and in 2013, the same production toured Australia also playing to capacity audiences with unprecedented success."
The US tour would have starred Ben Forster as Jesus - a role he previously played in the UK after appearing on the ITV series Superstar.
The 54-city trek had been scheduled to begin in New Orleans on 9 June and include stops in New York and Boston.
Producers never explained the reason for the show's cancellation, but offered refunds on all tickets.
Mr Cohl, who was also a producer on the ill-fated Spider-Man: Turn Off the Dark musical on Broadway, declined to talk in detail about financing when the tour was unveiled in April, but said the show's total costs were in the "eight figures" range.
He added it needed to pull in "several hundred thousand dollars" each night to keep it on the road.
His office was not open when the BBC called for a response to Really Useful Group's legal action.