Lawyers ask to leave sex abuse case against Bryan Singer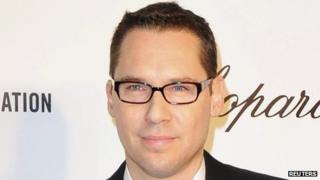 Lawyers acting for a man who claims he was sexually abused by X-Men director Bryan Singer have asked to withdraw from the case.
Jeff Herman and Mark Gallagher have filed a court motion saying they no longer want to represent Michael Egan.
The pair said their relationship with Mr Egan had "broken down completely and cannot be repaired".
Mr Egan accuses Mr Singer of abusing him when he was 17, a claim the film-maker strenuously denies.
Mr Egan, a former child model and aspiring actor who is now 31, has alleged that he was lured into a sex ring at parties at which Mr Singer was present.
Out-of-court settlement
He has filed a legal action seeking more than $75,000 (£44,500) for each of the four charges, listed as battery, assault, invasion of privacy and intentional infliction of emotional distress.
Mr Singer's lawyer has dismissed the accusations as "completely without merit".
"Bryan and his team will continue to fight to clear his name and intend to pursue charges of malicious prosecution against Egan," Mr Singer's lawyer Marty Singer said in a statement to the Associated Press.
Marty Singer, who is not related to the director, said Mr Egan wanted to settle out of court for a relatively low amount, demonstrating a "lack of confidence in their chances for success" in court.
Mr Egan has previously filed three similar lawsuits against other Hollywood figures. All have been dismissed.
When he first filed the complaint, his attorney Jeff Herman said: "Hollywood has a problem with the sexual exploitation of children."
The US District Court in Honolulu, Hawaii, is due to hear a motion to dismiss the case from Bryan Singer on 9 September.
The director has said he was not in Hawaii at the time of the alleged abuse and did not have sexual contact with Mr Egan.
Mr Singer has directed three instalments in the X-Men franchise as well as The Usual Suspects, Superman Returns and Jack the Giant Slayer.