Siegfried Sassoon's war diaries published online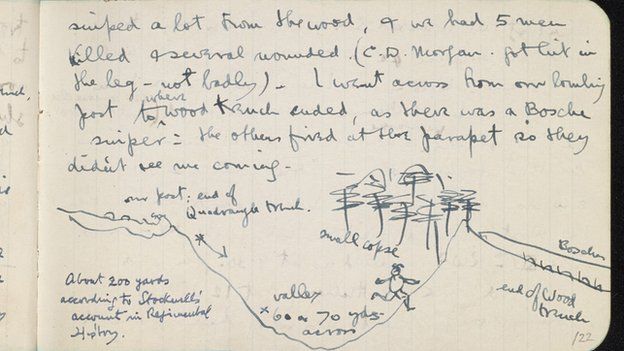 The diaries of war poet Siegfried Sassoon are being published online for the first time.
The archive of 23 journals and two notebooks of poetry has been digitised by the Cambridge University Library, which bought the collection in 2009.
Until now only Sassoon's official biographer - Max Egremont - has had access to the complete 4,100-page archive due to its fragile state.
Librarian Anne Jarvis said the war diaries were of "towering importance".
The journals, which are made freely available online from Friday, offer a unique insight into life on the front line during World War One.
Writing in a "distinctive" but clear hand, Sassoon describes life in the trenches, including the moment he was shot by a sniper at the Battle of Arras, and his depiction of the first day of the Battle of the Somme as a "sunlit picture of hell'".
His observations are often accompanied by pencil or ink sketches, notes on military briefings, and diagrams of the trenches - and bear the ravages of war, including mud and candle wax on the pages and binding.
"From his 'Soldier's Declaration' to his eyewitness accounts of the first day of battle on the Somme, the Sassoon archive is a collection of towering importance, not just to historians, but to anyone seeking to understand the horror, bravery and futility of the First World War as experienced by those on the front lines and in the trenches," said Ms Jarvis.
"We are honoured to be able to make them available to everyone, anywhere in the world, on the 100th anniversary of the First World War," she added.
Sassoon, whose writing was inspired by his first-hand experience as a serving officer in the Great War, is now recognised as a leading war poet of his generation.
Poems included in the collection include previously unpublished material, such as Absolution, understood to be his war poem, written before he was posted to the front line. There are also early drafts of some of his best-known works such as The Dug-Out - with an additional verse which Sassoon later removed.
The journals, which intersperse both prose and poetry, cover both the war years - when Sassoon was stationed on the Western Front and in Palestine - and post-war years up to 1927, and from 1931-32.
John Wells, of the Cambridge University Library, described their digitisation as "an organic record - as days go by - of what he [Sassoon] was experiencing".
"They are central to what Sassoon means to us now as a war poet and as a protester against the First World War," he told the BBC.
Related Internet Links
The BBC is not responsible for the content of external sites.