Dick Smith, 'godfather of make-up', dies aged 92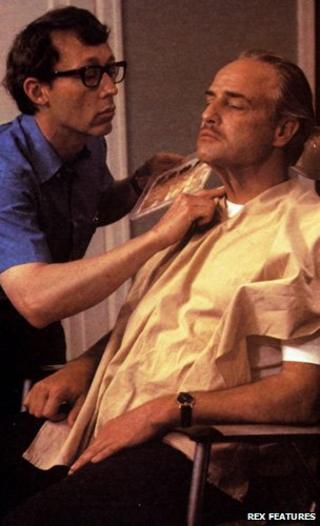 Oscar-winning make-up artist Dick Smith, who memorably transformed Marlon Brando into Vito Corleone in The Godfather, has died aged 92.
"The master is gone. My friend and mentor Dick Smith is no longer with us," tweeted his friend Rick Baker. "The world will not be the same."
Smith, who won an Oscar in 1985 for his work on Amadeus, also worked on cult hits The Exorcist and Taxi Driver.
He received a second honorary Oscar in 2011.
Presenting that award, Rick Baker - who worked as his assistant in The Exorcist - said Smith "took make-up to a whole new level".
"His work inspired a whole generation of make-up artists."
Known as the godfather of make-up, Smith - who began his career in television - came to prominence with this work on Francis Ford Coppola's The Godfather in 1972.
But his interest in the field was originally piqued by a book he read while at university, about theatrical make-up. It saw him roaming the campus, using putty and wax to transform himself into Frankenstein-style villains.
His experimentation earned him the first staff job in the make-up department at NBC where he honed his skills in ageing and prosthetic make-up.
He later pioneered the use of foam latex, using small sections to free up the movement of an actor's face.
His work reinventing Linda Blair in The Exorcist in 1973 gave him a fan following that included aspiring teenage filmmakers Guillermo Del Toro and JJ Abrams, with whom he had an ongoing correspondence for many years.
His construction of the dummy with head-turning capability resulted in one of the most famous images in US film.
"The Exorcist was really a turning point for make-up special effects," Baker told the Washington Post in 2007. "Dick showed that make-up wasn't just about making people look scary or old, but had many applications.
"He figured out a way to make the welts swell up on Linda's stomach, to make her head spin around, and he created the vomit scenes."
Taxi Driver, Marathon Man and The Deer Hunter were among the Oscar-nominated films that he worked on, climaxing with Amadeus which earned him his first Oscar for transforming the 40-something F Murray Abraham into the ageing composer Salieri.
Smith himself recalled afterwards: "It was the best job I ever had. I did all the work, had plenty of time, total co-operation, [and a] proper screen test."
Work continued into the early '90s, working on films such as Death Becomes Her, Forever Young (in which he collaborated with screenwriter JJ Abrams) and House on Haunted Hill, but Smith's focus largely shifted to his training courses for budding make-up artists.
In 2009 the Academy of Motion Picture Arts and Sciences honoured Smith with a special tribute to mark his huge contribution to the makeup profession and entertainment industry, and earlier this year he was honoured at the 2014 Make-Up Artists and Hair Stylist Guild Awards.